Only Good News!
Start the new year right with our list of heartwarming, awe-inspiring and straight-up happy-making reasons to smile, from around the world
1 Lifting the Load
For the 70 per cent of the world's population without access to electric washing machines, simply keeping up with laundry is a time-consuming task. The burden falls disproportionately to women and girls, many of whom spend 20 hours a week hand-scrubbing clothes, often without electricity or running water. But 31-year-old Navjot Sawhney, an engineer based in London, has come up with an off-grid solution: a portable, lightweight washing machine powered by a hand crank. Sawhney calls it the Diyva, after the woman who inspired the project—his former next-door neighbour in southern India, where he spent a year volunteering after leaving his job as an engineer at high-end vacuum maker Dyson. He returned to the UK to found the Washing Machine Project in 2018. After a few months developing a prototype, he received a grant from Oxfam's Iraq Response Innovation Lab. Since December 2022, nearly 200 Divyas, which resemble a plastic drum, have been distributed impacting almost 22,000 people across six countries. By saving 75 per cent of the time required to wash clothes, he says, women and girls will be freer to pursue education. "The feedback was overwhelmingly positive," Sawhney says. His goal is to deliver 8,000 machines to 10 countries over the next three years.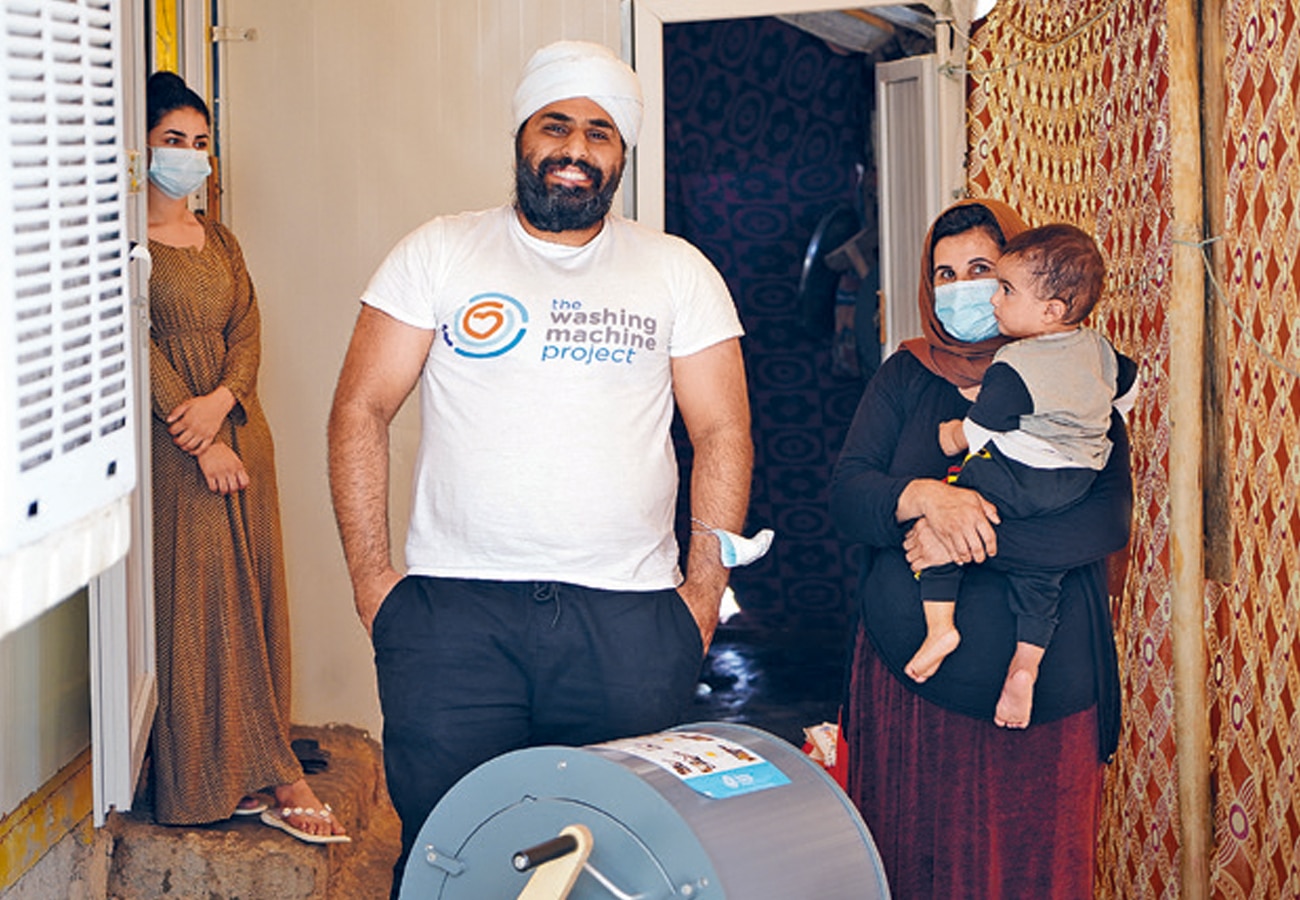 Navjot Sawhney, founder of The Washing Machine Project; Photo credit: courtesy of The Washing Machine Project
2 Small Countries That Make a Big Difference
Many nations around the world are making the necessary pledges to reduce harmful carbon emissions, with a goal of becoming carbon neutral several years from now. But what's truly impressive are the countries certified by the UN climate secretariat as 'carbon negative'. This is a tiny but growing club of forested countries absorbing more carbon than they produce, according to the Thomson Reuters Foundation. Certified so far are Bhutan—the Himalayan kingdom's forests absorb nine million tonnes of carbon each year, while its economy has been purpose-designed to produce just four million tonnes—and Suriname, just north of Brazil. Panama is the third nation to be recognized as carbon-negative.
3 From Old Tires To New Parks
In and around more than a dozen Indian cities, brightly coloured caterpillars, octopi and elephants are appearing in empty lots, much to the joy of local children. Made from old tyres and waste such as scrap metal and discarded ropes, these climbers, jungle gyms and swings are low cost, sustainable play spaces built by Bangalore's Anthill Creations, whose CEO, Pooja Rai, an architect, was inspired to found the company in 2014 after watching children at an orphanage play with broken pipes and flip-flops. Reusing some of the 100 million tyres discarded in India every year also helps reduce air pollution caused by tyre burning. Each tyre is cleaned, inspected and painted before being repurposed. So far Anthill has built 328 playgrounds across India. "Children come up with hundreds of games exploring their creativity, and there is something new every time they play," Rai says.
4 A Refuge for Captive Whales
Some of the estimated 60 killer whales kept in captivity at large marine parks and sea aquariums will soon experience the joys of retirement at North America's first wild refuge for captive orcas (and possibly beluga whales). It's scheduled to open its almost 100-acre coastal location in Nova Scotia, Canada, in early 2023. The refuge, which will have underwater nets to allow the whales to swim freely while remaining contained, has a depth of 16 metres and provides the mammals with 150 times more space than they have known in captivity. After the environmental assessment stage, the site hopes to welcome six to eight whales.
5 Hope for Organ Recipients
For potential organ-transplant recipients, blood type can be the difference between a successful match and more time on the wait list. But in early 2022, researchers working at Toronto's University Health Network published a new study that might ensure better blood-type odds for all transplant patients. The team of scientists used an enzyme to change the blood type from A to O in one of two human lungs (the other lung was kept as a control). Within lab settings, the experiment was a success, marking the first step toward finding a way for donor organs to be given to whichever patient needs them the most, regardless of blood type.
6 Chance To See Outer Space
As a child growing up in Nairobi City, Susan Murabana didn't get much encouragement to look to the stars. Outer space wasn't a big part of her school's curriculum. That changed for Murabana in her early 20s, when she encountered her first telescope and spotted Saturn and its icy rings. Says Murabana, now an astronomer, "Seeing something I had only read about in a textbook made me realize how small we really are." In 2014, she bought a telescope with her husband. Inspired by how studying space had opened up Murabana's life, the couple decided to give kids this experience by creating an educational programme called The Travelling Telescope. They criss-cross Kenya bringing astronomy education and a portable planetarium to schools and communities. So far, they've met with 3,00,000 children. Murabana says the telescope is the main attraction wherever they go. "It's a way of reminding people about the universe that sits just above their heads, and that they remain an intrinsic part of," she says. "It's there, but we forget to look up."
The Travelling Telescope has reached 3,00,000 Kenyans. Photo courtesy of The Travelling Telescope Africa
7 Wind Turbines Get New Life
Wind power is more popular than ever; the Global Wind Energy Council reported a 53 per cent increase in wind-power capacity in 2020 compared to the year before. But this renewable source of energy is not entirely planet-friendly. About 10 to 15 per cent of wind-turbine components, including propeller blades, cannot be recycled when they're due for replacement. That's why Anmet, a recycling firm in Poland, launched a subsidiary company in 2019 that finds new uses for old propeller blades. AIRchitecture designs unique-looking, weather-resistant furniture, as well as larger products, including car ports and fishing docks. These turbine parts may be past their prime, but they've found an elegant new purpose.
8 A Bright Idea
Twenty-year-old IIT-student Kaviraj Prithvi was fishing for ideas for a college project, when a visit to one of Bengaluru's schools for visually impaired sparked an idea for a useful innovation. The students and staff there revealed to him that the schools, often sparsely funded, needed cheaper options to print Braille text. Kaviraj got to work and soon developed Tactall, a portable printer the size of a computer mouse, which converts data received from a computer into braille, and prints it on any paper size—unlike regular braille printers that work only on A4-sized sheets—and at 20 times lesser cost. Awarded the Best Social Impact Business Idea at the SmartIDEAthon 2022, Tactall is now in prototype, with plans to launch in the market in April this year.
9 Turning a Coal Mine Into a National Park
With many countries abandoning fossil fuels for renewable sources, what are they to do with the now-toxic landscapes left behind? Norway has one very good idea. It's turning its last Arctic coal mine, located on the Svalbard archipelago between Norway and the North Pole, into a nearly 3,000-square-kilometer park. (The decades-old mine stopped operating in 2019.) Svalbard was already ecologically important: Some 20 million birds nest on the islands in late summer, while about 3,000 polar bears use its sea ice as hunting grounds. Now, the Van MijenfjordenNational Park will unify this wilderness and, over time, return it to a pristine and well-managed state.
10 Safe Haven Through Books
Terence Crowster has long helped disadvantaged youth in the crime ridden neighbourhood of Scottsville in Cape Town, South Africa. At various secondary schools, he has helped kids develop valuable skills, and led anti-bullying and leadership programmes. But it's the new libraries he has built out of repurposed shipping containers—with donations and second hand books solicited through Facebook—that have truly transformed the neighbourhood. The first one, which opened in 2017, was dubbed the Hot-Spot Library, a reference to both its location at the border of an area fought over by two rival gangs and its aim to be a helpful resource to youth. Despite its dangerous location, the library has flourished. In its first year, membership grew to 750 young people. Its shelves are now stocked with more than 2,000 books, and educational programming is offered six days a week. In November 2021, Crowster opened the Zoopark Hot-Spot Library in the adjoining Scottsdene neighbourhood, with future branches and libraries-on-wheels planned. "If this can inspire more people to stand up and do their part, then I have done my job towards changing our community," says Crowster.
11 A Pollution Solution
Growing up kayaking around the southwest coast of Ireland, 22-year-old Fionn Ferreira saw ocean pollution first-hand, and was shocked by how much plastic littered the shores. So he began learning about the estimated 300 million tonnes of plastic waste we produce every year. The most dangerous form, Ferreira found out, is one you can't see. Microplastics are tiny fragments that end up inside not only marine life, but humans. We ingest five grams of them every week through our food and water, and even more microscopic plastic particles are shed from carpets and synthetic textiles. After noticing that oil-spill residue on the beach attracted plastic particles, Ferreira set out to design a device that used ferrofluid, a type of magnetic liquid, to remove microplastics from drinking water. In 2019, his prototype—which removed 87 per cent of microplastics from a water sample—won him the grand prize at the Google Science Fair. Ferreira has started Green Journey Coalition, a non-profit that uses research and innovation to develop technology for cleaner water to fight plastic pollution. They are currently working on the development of a new MicroPlastic Environmental Cleaning technology known as MPEC, which is currently in the testing phase with Fionn & Co., LLC, and Stress Engineering.
Fionn Ferreira designed a device that removes microplastics from drinking water. Photo: courtesy of Fionn Ferreira
12 Testing for Lead Poisoning is Saving Children
In 2010, hundreds of children were falling fatally ill and others were developing brain damage in the northern Nigerian state of Zamfara. Community members there were mining on a small scale, processing gold deposits tainted with lead and inadvertently contaminating the water and soil. Since then, a joint effort between state departments and international agencies, led by Médecins Sans Frontières (MSF), has saved lives. More than 8,000 children were tested for lead poisoning, and the vast majority required treatment. Heavily contaminated waste areas were then excavated. Local miners have also been trained in safer practices, such as processing mineral deposits at sites far from their homes. With no child deaths reported in 2021, MSF handed the programme to the state government in February 2022, lead poisoning is now all but eliminated.
13 Solar Energy
In happy news that will help dissipate a degree of climate anxiety, India installed a record 10 gigawatt of new solar energy capacity in the first nine months of 2022. With the country set to become the world's most populous this year, its energy needs are set for expansion, this increase in solar capacity is a much-needed push towards decreasing the country's dependence on fossil fuels. 2022 was also the year when India got its first solar-powered village, Modhera in Gujarat.
14 'Coral Gardeners' Are Rebuilding Reefs
Coral reefs support at least a quarter of ocean life; half a billion people rely on the ecosystems for their livelihoods or food. Yet roughly half of the world's coral reefs have died, or are dying, because of such factors as pollution and global warming. A group of divers in French Polynesia has committed itself to restoring reefs. When Titouan Bernicot, 24, was a teenager growing up on the island of Moorea, he realized the ocean life around his home was vanishing. So in 2017, he founded Coral Gardeners. The organization grows pieces of coral in underwater nurseries and moves them to natural ocean reef sites around Moorea when they're large enough to survive in less protected conditions. Coral Gardeners has replanted more than 30,980 corals and intends to expand globally to reach one million by 2025. This ambitious goal may actually be within reach, thanks to advanced technologies. Live video feeds and sensors at restoration sites help track coral health.
15 A Novel Idea for Diversity
In July 2020, Sofia Akel, a race equity researcher based in London, decided to launch a fundraiser. Its goal? To get books by authors of colour to people who can't afford them across the UK and Ireland. So far, the Free Books Campaign has sent out more than 1,700 books. Beneficiaries of the campaign include kids and "parents who weren't aware of how many amazing authors of colour there are," Akel says. Two years in, she has no doubt as to the need for the campaign, which is for people of all ages. "Sadly, reading has become a luxury in today's world. If you're working two jobs to put food on the table, finding the time or the money to sit down and read can be difficult." This is where the campaign steps in: to close the gap so that nobody is denied the opportunity to immerse themselves in a great book. The Free Books Campaign operates on a trust basis. "No one has to prove that they don't have money," says Akel. "Everyone deserves to read books that they love." — By Marco Marcelline
16 Cycling Made Even More Sustainable
Cycling is widely known to be beneficial to your health, but Wyld Bikes, in Queensland, Australia, also has a positive impact on people in other ways—and is good for the planet. Each bicycle distributed by Wyld, which stands for What You Love Doing, is handmade in West Africa in partnership with the Ghana Bamboo Bike Initiative (GBBI). Created from sustainably sourced bamboo, the bicycles tread lightly on the planet: For every plant used to make bikes, 10 more are planted, helping to stabilize soil and stop erosion. The GBBI also empowers Ghanaian communities by generating employment for low-income women. Once assembled, some of the bikes are donated to kids in Ghana, providing them with the means to travel to school. Bike parts are shipped to Australia and put together there by unemployed youth involved with Wyld's mentoring programme.
17 Digital Detox
Aiming to reduce screen addiction, Vadgaon village in Sangli, Maharashtra is running a 3,000-strong community digital detox. Every day the village sounds a siren at seven p.m. signaling all to turn off their screens, till the second siren goes off at 8:30 p.m. when the devices can be switched back on. The decision to switch off TV sets and mobile phones for a few hours was arrived at by the village council on 15 August 2022. The pledge was initially met with stiff resistance and members had to go canvassing door to door to get people on board. But the BBC has reported that the digital fast once adopted has yielded positive results, with families reporting that the restrictions have meant more quality family time.
18 Smart Birds Clean Up Cigarette Butts
Christian Günther-Hanssen has long known that birds in the Corvidae family—which includes crows, rooks and jays—are highly intelligent. In 2013, while studying for a test at Sweden's Lund University, he was distracted by the sound of rooks outside and got the idea to train the birds to help clean the community. He built a vending machine that rewards crows for picking up cigarette butts (worldwide, 4.5 trillion cigarettes end up as litter every year.) The birds first learn that they can take a tasty food such as peanuts from the machine, and then they realize the treats come out only if the birds toss butts into a bin. A pilot project is set to test the machine in a small town in Sweden. The birds will be monitored for illness from handling the toxic butts—but it's more likely they'll benefit, thanks to a diet that's healthier than the discarded food they usually find.
19 Right to the City
In most places, after-dark hours have rarely belonged to women. Female mobility is continually policed, citing safety as the reason, and the result is as the night grows we see women's presence steadily shrink across public spaces. Women Walk at Midnight is a volunteer group working to reclaim bodily autonomy and city spaces that are taken away from women due to gendered violence. The idea for the initiative came about when Mallika Taneja, a theatre artist, decided to embark on a 24-hour-long walk across Delhi about seven years ago. Fearing potential danger in walking alone, she put out a call on social media asking people to join her. People showed up and that empowering experience evolved into Women Walk at Midnight. Since 2017, the campaign has seen groups of women—numbers can range from four to 30—set out for late-night walks to reinforce the fact that public spaces, whatever the hour, belong to women just as much as they do to men.
20 The Country That Pays People to Fix Broken Items
Have you ever thrown away a damaged lamp or coffee maker because it was too expensive to repair? In 2020, Vienna, Austria, launched its Reparaturbon ('Repair Voucher') programme for just that reason. Citizens paid half the cost of repairs, up to a 100-euro [Rs 8,600] maximum, on electronics, bikes, furniture and clothes, while the municipal government covered the rest. In April 2022, Austria's federal government offered a similar subsidy for broken electronics, covering half the repair cost up to a maximum of 200 euros [`17,300]. By the time the programme concludes in 2026, it's estimated that 4,00,000 items will have been fixed instead of scrapped.
21 Displaced Syrians Share the Joy of Music
Of the millions of Syrians who have fled their war-torn country over the past 11 years, hundreds of thousands have found a home in Germany. Raed Jazbeh, a bass player, claimed asylum in Berlin in 2013. Although Jazbeh left his homeland behind, he brought his love for music with him—along with a passion for sharing his culture with the world. Jazbeh spent months bringing together other displaced Syrian musicians. Then, in 2015, he founded the Syrian Expat Philharmonic Orchestra. Under Jazbeh's artistic leadership, these talented men and women play classical and contemporary music as well as traditional Syrian and Arabic pieces. The award-winning group, now with about 75 members, has made appearances in festivals and concert halls across Europe, including the Klarafestival in Brussels and the Centre d'Art et de Culture outside Paris.
22 Learning From Our Differences
Ronni Abergel of Copenhagen has always been curious about the lives of other people. In 2000, with his brother and friends, he launched the Human Library, stocking it with 'human books'—volunteers recruited from often-stigmatized backgrounds (for example, they may have been labelled as homeless, ADHD, Muslim, or obese). "I wanted to create a safe space where it was okay to ask other people questions," Abergel says. The first Human Library was held at a music festival, and the concept caught on. More than 85 countries now have human libraries, often in actual libraries. Patrons can browse the catalogue and check out a 'human book' for 30 minutes. "It's a chance to see what it's like to walk in their shoes, and to dispel fear," says Abergel, adding that the organization trains applicants to ensure they'll be open-minded and genuine. In 2020, the Human Library went online for the first time. Weekly virtual sessions are available and are typically fully booked with participants from around the world. Abergel says it takes a special kind of person to volunteer as a human book, opening themselves up to whatever is asked. But it has rewards, too. "This forum allows them to explain themselves," says Abergel. "Who doesn't want to be understood if for most of your life you've been misunderstood?"
Photo: Elin Tabitha/Human Library Organization
23 Giving a language new life
Miali Coley-Sudlovenick, an Inuk-Jamaican playwright born in Iqaluit, runs Allurvik, a business created in 2021 to preserve Inuit culture. One of Allurvik's most significant services is its online language lessons, where Coley-Sudlovenick teaches Inuktitut over Zoom. Some of her students are non-Indigenous, but many are Inuk, eager to reclaim a language they might never have known. "So much of our culture is gone," Coley-Sudlovenick says. "All we're trying to do is bring those parts of us back to life."
24 A Noteworthy Gesture
A 2021 survey of some 16,000 undergraduate students in 21 countries found more than half said their mental health had deteriorated because of COVID-19. Iman Al-Areibi, a secondary school teacher in Ontario, Canada, found a way to help her struggling students. She put pen to paper, and mailed each one of her 80 students a handwritten message of support. "Thank you for your hard work and contributions to our class and school community," one letter read in part. "Thank you for being you!" One student's mom responded, "The kindness and encouragement brought tears to my eyes and boosted my daughter's spirits ."
25 Mr Fix-It
Dushyant Dubey, is perhaps better known by his Reddit username St Broseph, and for good reason. In December 2021, he made a post on the Bengaluru subreddit offering help to all who found themselves stuck in any 'shifty situation'. And throughout last year he delivered: he has helped file FIRs, write college applications, get the city's municipal corporation to fix street lights, find accommodation and even helped two sisters escape their abusive home. He is currently developing a website to keep up with the requests as well as working on getting an apartment to serve as a safe house.