Increase Public Spending in Healthcare
Gorakhpur's child deaths scalded the nation's conscience. How we can turn outrage into action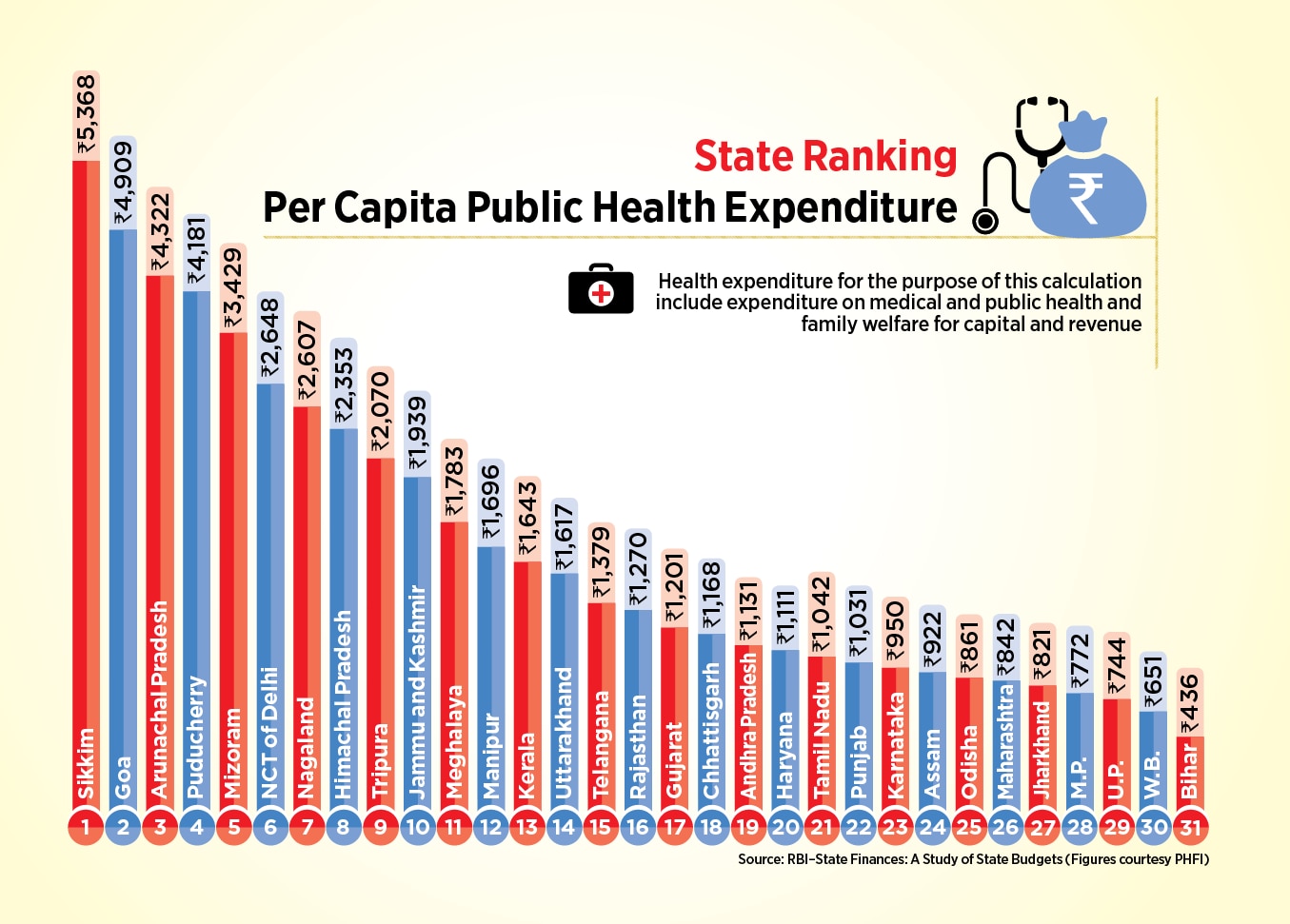 Which is the real face of India's health system? The large corporate hospitals in big cities that proudly proclaim world-class expertise and vie to attract international medical tourism or the low-resourced and poorly performing primary healthcare centres that desultorily dot rural India? The truth, as with India's many paradoxes, ranges between extremes. However, when an urban medical college hospital in Gorakhpur was suddenly caught in a media spotlight for a spate of child deaths occurring in shocking circumstances, several failings of the health system were cruelly exposed to scald the country's conscience.
Gorakhpur is located in eastern Uttar Pradesh (UP), which represents one of the least developed parts of India's largest state. The state as a whole has for long recorded poor health indicators in comparison with other Indian states. Within UP, the eastern region has higher rates of neonatal, infant and child mortality than state and national averages. For several years, acute encephalitis (brain fever) has claimed many child lives. Japanese encephalitis and other viral diseases causing similar brain damage have been common, often transmitted from primary animal hosts (pigs and water birds) by culex mosquitos. Scrub typhus, a bacterial disease, is a recently detected addition to the region's dangerous disease list. Pneumonias and other childhood infections are common, besides the dreaded encephalitis. Microbes, their animal hosts and insect vectors thrive in insanitary conditions of piled up garbage and stagnant water. An immunization programme against Japanese encephalitis has offered some protection but the multiple causes of preventable child death are largely unaddressed.
The Baba Raghav Das Medical College hospital in Gorakhpur draws patients from several districts and has a designated ward for encephalitis patients. On 11 August, news broke that over 60 children died in the hospital amid interruption in oxygen supply, allegedly due to unpaid bills. Charges of corruption and incompetence flew around, while several conflicting explanations were offered by doctors, government officials and the media for the wave of tragic deaths. While faulty procurement and payment systems were obviously culpable, the malaise that resulted in these and other child deaths stretches over many fault lines in the health system. Even with functioning oxygen systems and intense attention from state and central authorities, child deaths continued to occur in high numbers, exceeding 300 in August. Many questions need to be answered, beyond the oxygen episode which was only an acute manifestation of chronic health system malaise.
Why do children fall so ill in such large numbers in this region? A low birth-weight baby has a high risk of neonatal death. The rates of child mortality from birth to five years are high here as are the rates of child malnutrition. An undernourished child is easy prey to a variety of infections that hunt for victims in insanitary environments. Poverty, low levels of women's education and empowerment, early marriage and adolescent pregnancies in underweight anaemic women, and poor child feeding practices combine to create the cauldron of childhood deaths. Unless these social determinants of health are ameliorated through a broad and equitable development strategy, the root causes of disease will not be addressed.
Why do sick children have to trek long distances from the rural areas of Gorakhpur and neighbouring districts to the BRD Medical College hospital, when the needed care should have been possible in primary or community health centres or, in a small proportion, district hospitals? Only 36 per cent of people in this district have access to a primary healthcare centre within five kilometres and only 45 per cent have such access even to a sub-centre. The neglect of primary care services has been a problem in many states but nowhere nearly as severe as in eastern UP. Apart from sapping the limited energy reserves of the sick babies and the strained finances of poor families, the travel brings them to the overcrowded wards of a heavily burdened hospital where rushed care is rationed rather than rational.
Why is a large hospital poorly managed, with government doctors permitted private practice alongside? The principal of the medical college is also the administrative head of the hospital and doctors who share time between official and private clinical work also perform management functions for which there is little time or training. A centralized state bureaucracy also does not provide the required level of autonomy to the hospital administration. These are problems that plague government hospitals in many parts of the country.
Remedial responses are needed both to promote and protect health beyond healthcare, through actions that cut across several development sectors, and also to build robust health systems that assure access and affordability of appropriate care for all those in need. Water, sanitation, nutrition and environment are the foundations on which the health of a population is built. Education, livelihoods, income security, non-discriminatory community networks and social justice are the pillars that support personal and family health.
Beyond that, there has to be availability of a wide range of promotive, preventive, diagnostic, curative, rehabilitative and palliative health services to provide competent and compassionate care as needed. These have to be provided through an integrated service that connects primary to intermediate (secondary) and advanced (tertiary) levels of care. Comprehensive primary care has to provide essential basic services for a majority of health problems in the community, with hospitals needed only for major illnesses requiring specialist care. Here too, district hospitals need to be strengthened in preference to large tertiary care hospitals.
Universal health coverage, which is now at the heart of our National Health Policy and is a 2030 target of the Sustainable Development Goals, is the framework on which the health system has to be configured for efficiency, effectiveness and equity. Low levels of public financing -- UP has amongst the lowest per capita public spending on health -- must yield to higher public investment in health to protect human development (see graphic). The National Health Policy calls on states to spend more than 8 per cent of their annual budgets on health by 2020. By that standard, UP will need to double its budgetary allocation for health.
Even as more doctors and nurses are to be trained and uniformly distributed, technology-enabled community health workers can transform both rural and urban primary care in a short time. Public health professionals, with expertise in programme and hospital management, must be produced in large numbers and placed across the health system for better design and delivery of services, leaving clinicians to focus on patient care. They will also help to strengthen epidemiological surveillance and health information systems. Transparent procurement systems, for drugs and other medical supplies, must be mandated and modelled on the highly credible system developed in Tamil Nadu. Government doctors must be well paid but barred from private practice. These are well known but mostly ignored axioms of quality and equity enhancement in health systems.
Lament and outrage are temporary emotional responses to such tragedies. We need a considered response that creates social conditions and health systems that can reliably protect and restore health.
If the tragedy of avoidable child deaths in Gorakhpur spurs much needed reforms for health system strengthening, along with balanced social development, the children yet to be born will have a safe passage through life.
Dr K. Srinath Reddy is president, Public Health Foundation of India (PHFI). He was awarded the Padma Bhushan in 2005.
The views expressed here are personal.