Advice to a Boy Lonely In Montreal
An empty nester writes to his millennial son trying to find himself in the big city.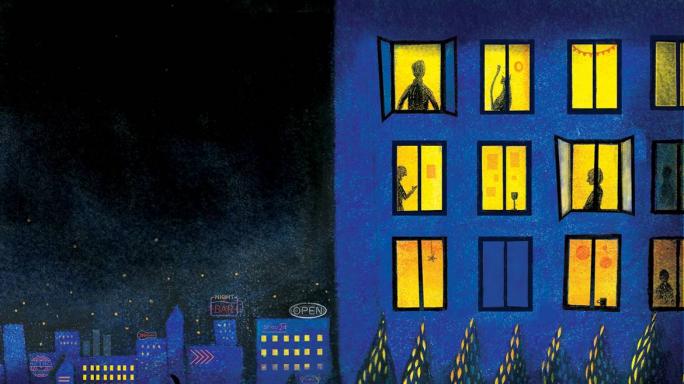 One day, one of these days, you'll come back to your hostel room in downtown Montreal, switch on the lights and look down upon the evening lights of Sherbrooke Avenue far below---and you'll suddenly feel utter loneliness.
You'll wish you were back home--- where winter is a warm season; where everyone is familiar and friendly. You'll long for your childhood. You'll ache for your past.
I heard it yesterday in your voice and your words when we Skyped. "I know this is what I wished for," you said. "I wanted to leave home, and go to McGill University. But my wishes have come true, and it's nothing like the pictures."
At this very moment there are a couple of hundred thousand young men and women like you, sitting in their rooms and thinking nearly the same thoughts. Their dreams came true---but now they just want to go back home.
Here's a simple truth, son: You'll want to go home for the rest of your life. To a simpler time, a safer, better place, where someone else took care of everything. But you can never go home again. Till you start college, you do not know what it is like not to have a parent always anticipating your daily needs. But that disappears overnight, with almost no time to prepare.
You come home and no one's been thinking of your dinner. You raid the fridge but all you find is what you put in there. No magic elves are stocking it up any more with juice and cheesecake for a late-night snack. You sleep late but there's no one to wake you up so you don't miss class. You wake up feeling feverish and ill --- but there's no one to cool your brow. Maybe this is what a baby bird feels like when it is nudged off the branch by mama and papa because it's time for the little one to fly.
Let me prepare you for what's coming, because loneliness comes like an illness, with its own symptoms and aches and pains. Here's what will happen.
First, you will feel depressed. I saw it on your face when we spoke last week. Your world will lose colour and you will yearn to just get on a plane back home. That will be partly because Montreal in November is like that---grey and gloomy. Everything will seem pointless.
But because a part of you knows that things could not really be as meaningless as they feel right now, you may begin reflecting. You'll wonder about God, or religion at least. When my loneliness as a young man in Mumbai became unbearable I began attending bhajans (religious rapture music)---swaying, eyes closed, with about 200 people. I fell in love with the mystic Meera's achingly devotional songs to Lord Krishna, and would sing them in my room and weep in my solitude. But they did nothing to ease my loneliness.
So one day, perhaps as your second term starts, you'll leave God alone and start wondering about yourself. You will want to know who you are, and who you want to become. You'll want answers to the big questions: Why are you here? What is it all about?
One day you may start to realize that there is still one person who cares, who can and will do anything for you, who will never leave you for the rest of your life. You only have to ask. That person is you.
Loneliness Is An Opportunity ...
... It's like your first days in an empty house where you will live for many years to come. As you start adding things to make it cozier and more liveable, it will start blossoming from mere walls and a roof into a warm home that is uniquely yours. The necessities will come in first---the kitchen will grow, your workspace will take shape---and soon, slowly, art and other pretty things will start going up on the walls, sills and mantels.
That metaphorical empty house is the rest of your life, yours to take and make your very own. Here are some ideas from me on how you can make gold out of your loneliness:
Make Friends With The New City
The only way to make the past feel like less is by making the present feel like more. You have nine years of memories in Bangkok and two months of nothing in Montreal. Make time to explore your city. Be adventurous. Have fun. Make the city yours through discovery. Find lanes and corners no one knows about, and search out experiences the guidebooks don't tell you.
Away from home, I would drive around the different quarters of Mumbai, through ancient lanes and past gracious buildings centuries old. This was how I stumbled upon the Portuguese quarter, and also an alley I christened Literacy Lane. It was a brightly lit, hush-silent lane filled with hundreds of shanty children hunched over their books, studying by the light of halogen street lamps.
Then I discovered that if I boarded the ferry at Bhaucha Dhakka pier along Mumbai's Thane creek, with a round-trip ticket to the fishing villages of Madh Island at around twilight, I could watch Mumbai city recede as the sunset cast its pink colours on the old stones and the stars appeared. Like magic, the stress disappeared.
Cook For Your Friends
There is a reason why the phrase 'breaking bread together' has come to mean 'building friendship'. Even back when I was a disastrous cook, I would regularly have four or five friends over and cook for them. No one cared how it tasted---the warmth and camaraderie that shared mealtimes can build last forever.
Make Your Room Special
What made your home in Bangkok special? Think of all the little touches, the trinkets, wall hangings, figurines, bamboo and cane furniture, books, aroma diffusers, potted plants, the sound of chimes. Think of the dozens of framed photographs of good times with friends and family. Every piece had a story to tell and a memory it evoked of a birthday or vacation---that was what made it a home for all of us. Making a place your own costs time, not money. It needs little touches, not big flourishes. You'll know it is working the day you feel a sense of lightness and relief walking through your door.
Give Back
You start belonging to a place and a community when you start giving back. Even one hour a week is a lot --- and it does not matter whether you spend it reading to elderly people in a retirement home or teaching maths to schoolkids or washing dishes in a soup kitchen. Right now, you're in Montreal to get an education. The day you start giving something back is the day your relationship with the city begins, transforming it into a vibrant, pulsing community of which you are a part.
Read, Watch, Think, Repeat
The book I left with you, Robert Pirsig's Zen and the Art of Motorcycle Maintenance, was a cult classic in my college days, but remains vitally relevant to every generation because it is about life, people, relationships --- and the important questions they raise.
This is your time to find your answers. Maybe this book I gave you will give you something. Maybe some other book will. You need to find your creed, the code you will live by. Look for it, and take it where you find it.
Watch The Martian
Despite everything, there will always be days when you will want to give up and crawl into a hole in the ground. On those days, watch The Martian. In the film, actor Matt Damon plays the an astronaut, who is stranded on Mars when his crewmates, believing him to be dead, leave. He is the loneliest man in the universe. But instead of giving up, he decides that he is going to "science the s--- out of this". He has no intention of dying on Mars.
No spoilers from me. But Matt Damon's last lines, delivered to a classroom, are worth carving on a plaque and hanging on a wall—here's what he says: "I guarantee you that at some point, everything's gonna go south on you ... and you're gonna say, 'This is it. This is how I end.' Now you can either accept that, or you can get to work. That's all it is. You just begin. You do the math. You solve one problem … and you solve the next one … and then the next. If you solve enough problems, you get to go home."