Home for the Holidays: Together, Again
Not all Christmas gatherings may be the same, but they're all made with love
It was 2021 and just a few days before Christmas. Our specially bought fir stood in a far corner, its leaves fluffed out but mostly bare,
a few fairy lights tucked around its bristly branches. C'mon! I'm waiting! it seemed to admonish. I'd been feeling dwarfed by the enormous task of outfitting the six-feet-tall evergreen. But Tree was right. Nope, I thought, No more putting it off.
"You string up the lights, Mum. I will do the rest when I'm home from college," my daughter Ananya told me, taking control of the situation. An idea struck. "Call your friends over to help with the tree," I told her. "The more the merrier!" The next few hours were a glorious blur. Ananya's delighted friends were thrilled to be decorating a tree for the first time. They didn't know where to start!
"Put the big ones first," I instructed, talking above the noisy music playing in the background. Shiny baubles slipped from nervous fingers, our spaniel Sandie, who loved being among lots of people, weaved around scurrying feet and fallen tinsel excitedly. "She's getting in the way," the teens groaned. "Keep her with you!" The tree toppled
over at least once, the baubles bounced on the floor with Sandie chasing after them. Excited voices and laughter wafted through the house. I took a beat in the midst of it all and felt a curious warmth spreading in my heart as I gazed at the scene. The sound of chatter and laughter was music to my ears. Two years of a pandemic had kept us terribly alone. My family couldn't meet for months, though we stay a stone's throw away from each other. And now my daughter was studying in another state. Loneliness was a feeling I had come to know well.
An empty house at Christmas time was particularly strange for someone like me who came from a large family of 10 siblings. I remember new dresses for the girls, bow ties for my brothers. On Christmas Eve; the smell of mum's plum cake baking gently on the gas oven, floated through the house.
Each of us were in charge of a little job that made us feel very important and special. One made the Christmas star with dad. Another stood patiently by the fire stirring up chocolate fudge. The youngest one licked clean the spoons that were sticky with cake batter! And to really get into the Christmas spirit, the older children sang carols to senior citizens in the neighbourhood. As for me, I think I just got in everyone's way!
On Christmas Day we went to the local church together and then later gathered around the table (its sides extended to make room for us all) for a simple but delectable lunch cooked by Mum and Dad. As evening fell, Dad brought out a bag full of gifts.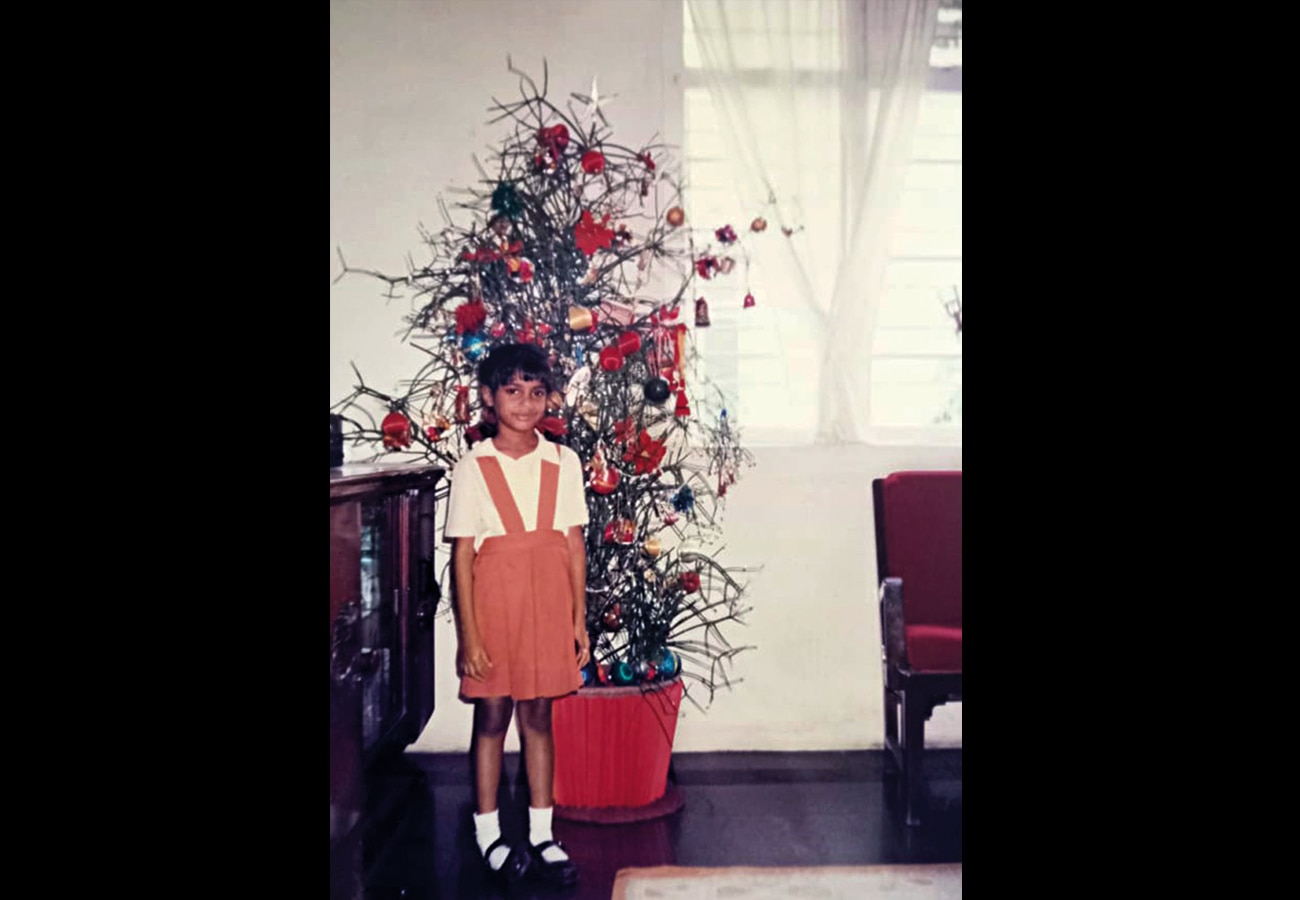 The author's niece with the pencil cactus Christmas tree
This annual family event was set for every year even when the family expanded. We welcomed in-laws and grandchildren and great-grandchildren. With each addition, the event evolved.
Lunch remained at Mum's but we added little frills, like carol-singing and reciting long poems. The menu changed too and mum's simple repast became a foodie's delight. Best of all, there was now a gift waiting for everyone, family, close friends and household help, lying below the Christmas tree.
The tree sheltering our presents wasn't the usual conifer that adorns holiday cards. In those days, trees like that were not easily available and even when they were, those lovely pines were beyond our reach. Most years we did without one, barring a few exceptions. Once we had a straggly bottle- brush in gaudy green; another year saw a live evergreen from a plant nursery that didn't do too well indoors and dried out before the 12 days of Christmas were out.
Then there was the pencil cactus that had stood in mum's compound for years. It wasn't perfectly shaped nor did it have branches on which beautiful ornaments could be artfully draped. Instead, it was a hardy succulent with thin, fleshy stems sticking out in different angles. But what a lovely tree it made! It stood proudly in a corner with ornaments and baubles from all over dangling from its stems. My sister Angela, stood for hours, painstakingly gluing on foam balls of different sizes on the ends to make it look fuller. This strange little tree took centre stage as the family reunited, lunched, sang and cheered all through the day.
By the time Ananya and her friends finished decorating our home, it was night time and the tree stood elegant and bedecked with trinkets and love. (This is more like it! I hear it say). As I sat by myself in the living room, soaking in the twinkling lights bathing the room in a golden hue, I thought of those Christmases past and how so much had changed. The family has grown smaller—mum is no longer with us. Neither is Dad, nor my husband, David. Many family members have moved across the seas. But through it all, Christmas would always find a way to bring us together. Even when COVID-19 struck, we greeted each other over Zoom calls, through masks and sanitiser spray instead of glitter and candle light!
And though the gifts under the tree were missing, our siblings still played secret Santa, sending hampers of goodies from afar to lift our spirits and to normalise different and difficult times! This year things look better and so maybe it's time for the family to meet again; for music and carols and joyful reunions; for Christmas to light up our home. I can hardly wait!
Loved this? To read more Christmas stories click here.