19 Things To Know About The 2019 Elections
Pollsters Prannoy Roy and Dorab R. Sopariwala highlight 19 trends to look out for in their latest book, The Verdict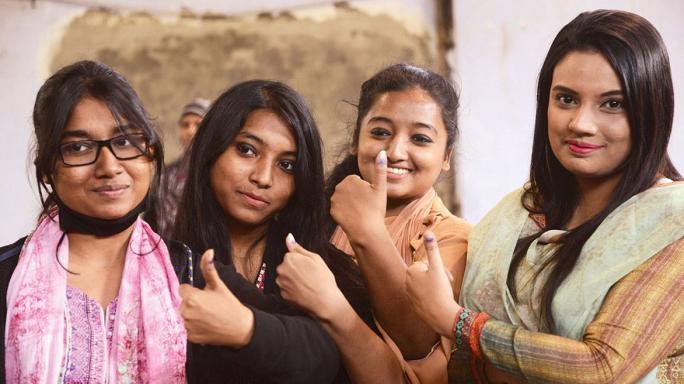 We probably say this before every election, and we are going to say it again for the 2019 Lok Sabha one: "This could be the most important election of our lifetime." But in our four decades of observing polls, we don't recall ever seeing the level of interest as there is in the outcome of this one. We highlight, here, some key signals, indicators and trends to look out for, while tracking this big election.
1. Will 2019 be all about anti-incumbency?
In our analysis of big and medium-sized states, in the period 1977–2002, 70 per cent of governments were thrown out by angry, dissatisfied voters. However, this has changed over the last 20 years. To put it simply, the anti-incumbency era is over. India is now going through what can be called a '50:50 era': Incumbents face a 50:50 chance of being re elected. Governments that perform are voted back; those that do not deliver are voted out. The angry voter has given way to a wiser, more mature voter. The underlying probability of governments being re-elected has risen from 30 to 50 per cent. This may come as a relief to many ruling state governments as well as to the Central government.
2. Will the next Lok Sabha MPs [Members of Parliament] be young like Indian voters?
Today, almost 60 per cent of Indian voters are young—between the ages of 18 and 40. But only 15 per cent of MPs are between 25 and 40 years old. This means 85 per cent of MPs are of a different generation from the majority of voters. And it's a widening age gap! In the recent past, the BJP [Bharatiya Janata Party] and its allies have had greater support among young voters.
3. Expect 2019 to be the 'election of the women of India'.
Women's participation in elections has been rising much faster than men's, and 2019 could be the first time in India's history that the turnout of women voters will be higher than that of men. Between the 1962 and 2014 Lok Sabha elections there has been nearly a 20 per cent increase in women's turnout versus only a five per cent increase in men's. Today, the turnout of both women and men is almost the same. In fact, in state assembly elections, women's turnout has now overtaken men's turnout—women voters had a 71 per cent turnout versus 70 per cent for men: a revolutionary change.
4. The biggest change in Indian elections has been the increasing turnout of rural women and it is now at virtually the same level as men's turnout. Six per cent more village women turn out to vote than their urban counterparts. This is a huge change from 1971 when the turnout of women in rural areas was eight per cent lower than in towns. Today, women's participation in voting is higher in the safer, more women-friendly states in east and south India. The worst states for women's turnout, compared to men's, are primarily in the Hindi-speaking-belt in central and west India, especially Delhi, Jharkhand, Madhya Pradesh and Uttar Pradesh. In these elections, watch out for social media rumour-mongering that may be aimed at keeping women from venturing out to the polling stations.
5. Expect political speeches, manifestos and campaigns to be directed more at women than ever before. Earlier, election campaigns were almost solely focused on men: first, because there were many more male voters; second, men in the family used to be a primary influence on who women would vote for. Today, not only are more women turning out to vote than men, they are also making independent decisions on their choice of political candidate. Traditionally, the BJP has had a higher support base amongst men than women. For example, in the 2014 Lok Sabha elections, the lead of the NDA [National Democratic Alliance] over the UPA [United Progressive Alliance] amongst men in India was 19 per cent while its lead amongst women voters was nine per cent. This is why the government's free gas cylinder policy was a perfect election campaign idea; it targeted primarily rural, women voters. All parties can now be expected to make similar promises targeting women in these elections.
6. The biggest shame of 2019—21 million missing women voters.
In 2019, there will be millions of Indian women who are over 18 and therefore entitled to vote, but will not be able to cast their vote because they have not been registered as voters. Early estimates suggest that as many as 21 million eligible women voters will be denied their right to vote in 2019 simply because their names have been excluded. It is probably too late now to change the electoral rolls. We suggest that any woman who is not registered, but comes to a polling station in the constituency where she resides, and is over 18, be allowed to vote.
7. Rural turnout is higher than urban turnout.
The voter turnout in rural areas has been rising faster than urban areas and today, the turnout in villages is about four per cent higher than the turnout in urban areas in the Lok Sabha elections. This high and faster-growing turnout of rural voters may be of some concern for the BJP and its allies, as it traditionally has a higher support base among the urban electorate and lower in the rural areas.
8. Lok Sabha elections are no longer just about the Lok Sabha.
For the average voter today, Lok Sabha politicians are becoming less and less important compared to panchayat leaders and Members of the Legislative Assembly (MLAs). Voter turnout for local elections is now higher than for the Lok Sabha. Panchayat leaders and MLAs often have higher face and name recognition than the MPs. Expect parties to rope in panchayat and municipal leaders, as well as the MLAs, in the campaign for this Lok Sabha election.
Image credit: Subir Halder
9. Electronic voting machines (EVMs): Keep the faith.
In our experience with EVMs over the years, the fundamental and unique features of each machine (that they are stand-alone, not connected to the internet, have no Wi-Fi or Bluetooth) have convinced us that they are virtually impossible to hack.
In the 20 years of the use of EVMs, in election after election, with so-called hackers holding high-profile 'demos' and press conferences to 'prove' how they can be infiltrated, there has not been any credible evidence of this so far.
Until there is a more convincing demonstration that the system can be hacked, which is unlikely, we remain convinced that the EVM is one of the finest innovations of Indian elections.
10. No longer national—it's a true federation-of-states election.
The importance of regional leaders and regional issues, even in the Lok Sabha elections, is reflected in the sharp rise in the number and strength of regional parties. These have risen from an average of 35 Lok Sabha seats in the early phase after Independence to over 160 seats now, almost a third of the seats in the Lok Sabha, and the trend is decidedly upwards. In the early phase of Indian elections, regional parties won four per cent of the vote; this has now risen to 34 per cent of the national vote in Lok Sabha elections. The strong sub-national parties in these elections will create state-level swings* and relegate the phenomenon of a 'national swing' to a distant memory. Clearly, it is important to assess the politics at a more micro level. The final all-India analysis should reflect the sum of different states of India.
11. 2019 is likely to be a combination of landslides in each state.
A favourite pastime in any big election is trying to predict the seat-wise result in each state and add up the numbers in the states to arrive at an all-India forecast for the Lok Sabha. Most analysts usually predict a fairly close fight in each state, with one party or another leading by a small margin. The real story of Indian elections is, however, quite different.
Our Lok Sabha elections are a combination of landslides in the states. The probability of a landslide during a Lok Sabha election in any particular state is 77 per cent—way above global norms. Any forecast of the Lok Sabha result is likely to be more accurate if the prediction allocates a clear victory, one way or the other, in each state of India and all the different landslides in each state are added up to reach a final, all-India forecast for 2019. Yes, close fights do happen, but less than one-fourth of the time.
12. The effect of state assembly elections.
Our analysis shows that 93 per cent of the time, the party that wins the state assembly election also wins the largest number of seats in that state in the Lok Sabha elections, as long as the Lok Sabha election is held within a year of the state assembly one.
Does this have any significance for the 2019 Lok Sabha elections? While the data indeed suggests it is important, this conclusion is based on state assembly elections in which the largest party won by a landslide. In 2018, while the elections were held in the same states, there were very narrow margins of victory in two of the important states—Rajasthan and Madhya Pradesh. It is, therefore, not clear whether, for the Lok Sabha elections, this will reduce the momentum that is normally gained from a landslide.
13. Key indicator: Turnout matters.
Based on the empirical relationship between turnout and party performance over the last three Lok Sabha elections, the turnout level in 2019 could be an important indicator of who may win the election. The turnout data indicates that when there is a low turnout in any constituency, the BJP does well. And in constituencies where the turnout is high, the Congress does well. A large number of constituencies with a low turnout may be good news for the BJP as it often indicates that the BJP cadre has delivered the party's own supporters to the polling stations, while there is no strong, spontaneous voting for other non-cadre parties. Conversely, if the turnout is high the Congress should be pleased. It would mean that there is a high level of voter enthusiasm and spontaneity despite the lack of its organizational strength to ensure its own supporters actually come out and vote. So, either way, it is important to look out for the turnout figures, preferably constituency by constituency, in the 2019 Lok Sabha elections.
14. The impact of media in 2019.
Media shrillness often has an inverse relationship with its impact. However, social media is a wholly different ball game. Political parties are now using social media platforms 24x7 to get their messages across. Some politicians are even calling 2019 a 'WhatsApp election'! Unfortunately, the anonymity of social media lends itself to the dissemination of fake news, spreading hate, rumours and fear of violence. And this could intensify in the run-up to the 2019 elections.
15. How low can they go and still win?
Another trend that is likely to affect the 2019 Lok Sabha election is that even a very low percentage of votes can yield a high number of seats. As the last elections showed, even 38 per cent of the vote resulted in a huge victory with 336 seats for the BJP and its NDA allies. This is a result of a fragmented Opposition in a first-past-the-post system*. Over time, the vote threshold for winning a majority of seats is dropping further and further. In the first phase of our elections, 1952–1977, the largest party would, on average, win 47 per cent of the vote in the seats it contested. In the second phase, 1977–2002, this dropped to 43 per cent. Now, in the latest phase, 2002–2019, it is down to only 37 per cent: a huge drop of 10 per cent.
16. What will be more important for victory: votes or dividing the Opposition?
Today, for victory in an election, dividing the Opposition vote is almost as important as winning a higher popular vote for the party. The impact of Opposition unity on seats is rising with every election, from an average of 33 per cent in the first two phases to 45 per cent in the last three Lok Sabha elections. So in 2019, expect alliances between parties to play a crucial role.
Image credit: Alamy
17. A swing in votes has a bigger impact on seats than ever before.
The capriciousness of the first-past-the-post system ensures that an exaggerated number of seats change hands for every one per cent swing in votes. What's more, this is increasing over time and is likely to be at its highest in the 2019 elections. In the early phase of elections, a one per cent swing in votes used to lead to 12 seats changing hands. In the next phase, 1977–2002, the same one per cent swing led to a change of 15 seats. A one per cent swing can now yield as many as 18 seats.
18. A change in Opposition unity has a bigger impact on seats.
As with a swing in votes, expect the impact on seats of a one per cent change in Opposition unity to be higher than ever in 2019. Now, there is more bang for the buck in a greater level of Opposition unity.
In the early years, if the Index of Opposition Unity, or IOU*, went up by one per cent, the Opposition would win only four extra seats. Today, this 'Opposition unity dividend' has nearly doubled to seven seats.
19. Swing vs IOU
To sum up, the IOU is becoming more effective compared to swings. In the early days it needed a three per cent change in IOU to counter a one per cent swing. Today this has changed: It needs only a 2.5 per cent change in IOU to neutralize a one per cent swing in votes. This difference of 0.5 per cent may seem small, but in electoral terms it is hugely significant.
It may be once in five years that the vote is exercised at the national, state or local level, but it is what keeps the politician and political parties within the limits set by the letter and spirit of our democratic constitution. It is neither the VIP nor the individuals who temporarily occupy high office; neither the careerists who man the administration; nor the eloquent or high-profile leaders who dominate the media today and perhaps the history books tomorrow. It is the anonymous voter from the four corners of our country who is the true guardian of our democratic state.
Extracted with permission from The Verdict: Decoding India's Elections by Prannoy Roy and Dorab R. Sopariwala, published by Penguin Random House India.