Corona Updates You Must Track: India Reports Steady Decline In Daily Cases, Johnson & Johnson Halts Vaccine Trials
India recorded 55,342 cases of coronavirus and 706 deaths in the last 24 hours. The country's COVID-19 tally stands at nearly 71.76 lakh
India cases and toll: India reported 55,342 fresh cases of COVID-19 in the last 24 hours, between 8 am Monday and 8 am Tuesday, as per the data shared by the Ministry of Health and Family Welfare. The last time India reported around 55,000 infections in a day was 18 August—55,079 new cases were reported that day.
In line with the steady decline in daily cases, the active caseload is also under-9 lakh, at 8,38,729. India's coronavirus tally now stands at 71,75,880, which includes 62,27,295 recoveries and 1,09,856 fatalities. In the last 24 hours, 706 people succumbed to the disease across the country. India conducted 10,73,014 COVID-19 tests on Monday.
Guidelines for managing seasonal diseases that could co-exist with COVID-19: The Health Ministry on Tuesday issued guidelines for managing co-infection of COVID-19 with other seasonal diseases like dengue, malaria, seasonal influenza, chikungunya, among others. "It must be borne in mind that malaria/dengue can coexist with other infections, and thus confirmation of malaria/dengue infection does not rule out the possibility of the patient not suffering from COVID-19. Similarly, a high index of suspicion of malaria/dengue must be there when a fever case is diagnosed as COVID-19, particularly during the rainy and post rainy season in areas endemic for these diseases," the guidelines state.
Rapid diagnostic kits for all these seasonal epidemic-prone diseases should be available in COVID-19 treatment facilities. The preventive measures include vaccination for "seasonal influenza for healthcare workers and other high-risk groups". For more details, you can read the full document here.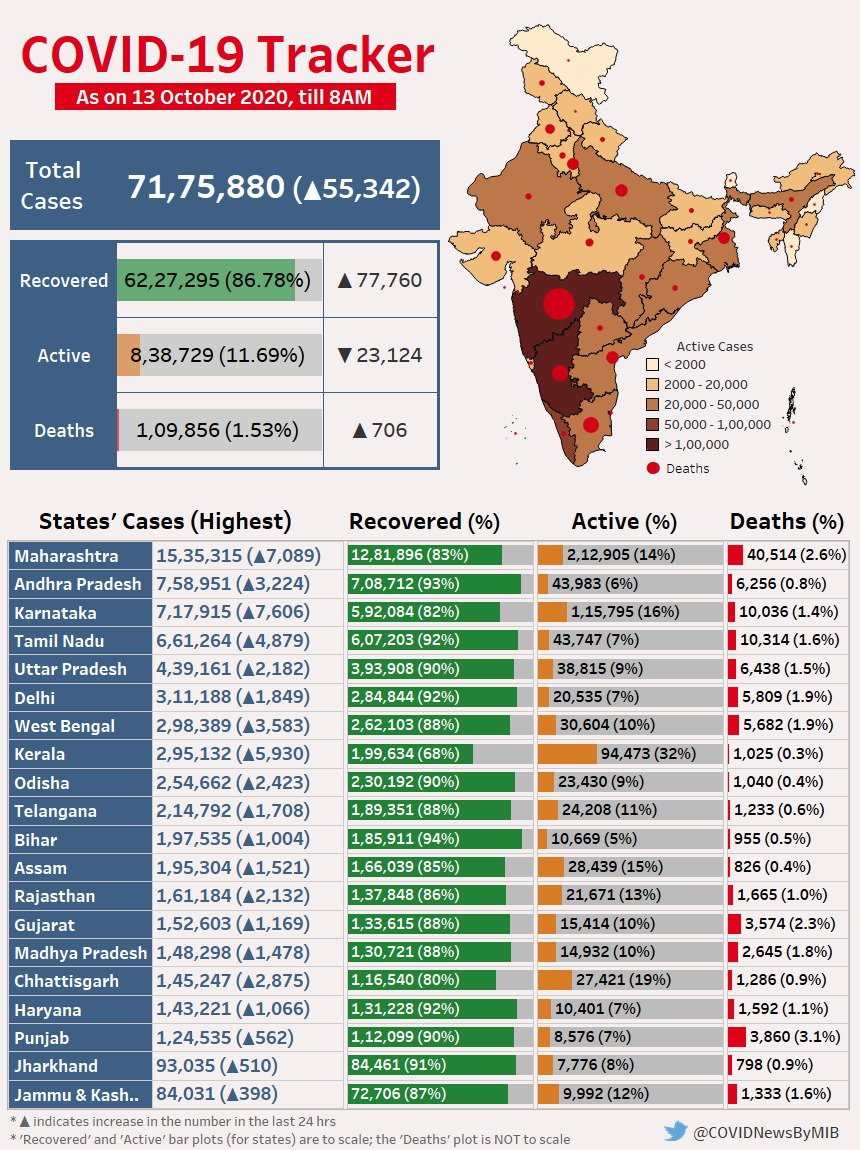 COVID-19 tracker for 13 October. Source: Twitter/@COVIDNewsByMIB
Karnataka's COVID-19 toll crosses 10,000-mark: Karnataka is now the third state after Maharashtra and Tamil Nadu to record more than 10,000 COVID-19 deaths. With 70 deaths in the last 24 hours, Karnataka's coronavirus toll has climbed to 10,036.
The state also reported the maximum daily cases across the country—a trend largely associated with Maharashtra. In the last 24 hours, Karnataka reported 7,606 cases of coronavirus against 7,089 in Maharashtra. Karnataka's COVID-19 tally stands at 7,17,915, which includes 1,15,795 active cases and 5,92,084 recoveries.
Johnson & Johnson halts COVID-19 vaccine trial: Johnson & Johnson has halted its trials for an experimental COVID-19 vaccine after one of the participants fell ill. Besides the US, trials for the vaccine were also being carried out in Argentina, Chile, Brazil, Colombia, Mexico, Peru and South Africa. The company's experimental vaccine has reached the phase-3 trial stage.
Global corona update: The global coronavirus count has reached 3,80,53,006, which includes 83,57,496 active cases, 2,86,09,966 recoveries and 10,85,544 deaths, as per Worldometer. Currently, 69,112 COVID-19 patients are in serious or critical condition.
Meanwhile, World Health Organization (WHO) chief Tedros Adhanom Ghebreyesus on Monday said that deliberately allowing coronavirus to spread to achieve herd immunity is "unethical", reported The Guardian. "Herd immunity is achieved by protecting people from a virus, not by exposing them to it... Allowing a dangerous virus that we don't fully understand to run free is simply unethical. It's not an option," the report quoted the WHO chief as saying at a virtual press briefing.