Corona Updates You Must Track: Delhi Reports More New Cases Than Maharashtra, ICMR expands testing strategy
Delhi adds 3,947 fresh cases of coronavirus disease and 68 deaths in 24 hours. India's COVID-19 tally climbs to more than 4.56 lakh cases
Even as Maharashtra continues to lead the India table in terms of total confirmed cases of coronavirus, Delhi's tally is rising fast. With nearly 4,000 fresh cases on Tuesday, the national capital reported its highest single-day surge. Maharashtra, which has seen a steady decline in the infection growth rate, reported 3,214 new COVID-19 cases on Tuesday. India added nearly 16,000 new cases of coronavirus in the last 24 hours.
Track all the updates related to coronavirus numbers, ICMR guidelines and the testing strategy here:
India cases and toll: India's coronavirus count has surged to 4,56,183 cases on Wednesday morning, according to the data shared by the Ministry of Health and Family Welfare. While the active cases are at 1,83,022, recoveries have climbed to 2,58,684. The coronavirus death toll stands at 14,476. India added 15,968 fresh cases of coronavirus cases, a record single-day jump, in the last 24 hours. During that time, 465 people lost their lives as a result of the virus. A total of 2,15,195 COVID-19 tests were conducted on Tuesday.
Delhi emerging as a COVID hotspot: The national capital reported 3,947 fresh cases of coronavirus in the last 24 hours, overtaking Maharashtra which added 3,214 new cases to its tally. With this, Delhi's COVID-19 count stands at 66,602 confirmed cases with 24,988 active cases, 39,313 recoveries and 2,301 deaths.
The Delhi government as part of its strategy to check the spread of the infection has said that every house in the capital will be screened by 6 July while all houses in the containment zones will be screened by 30 June, reported NDTV. Delhi currently has 261 containment zones.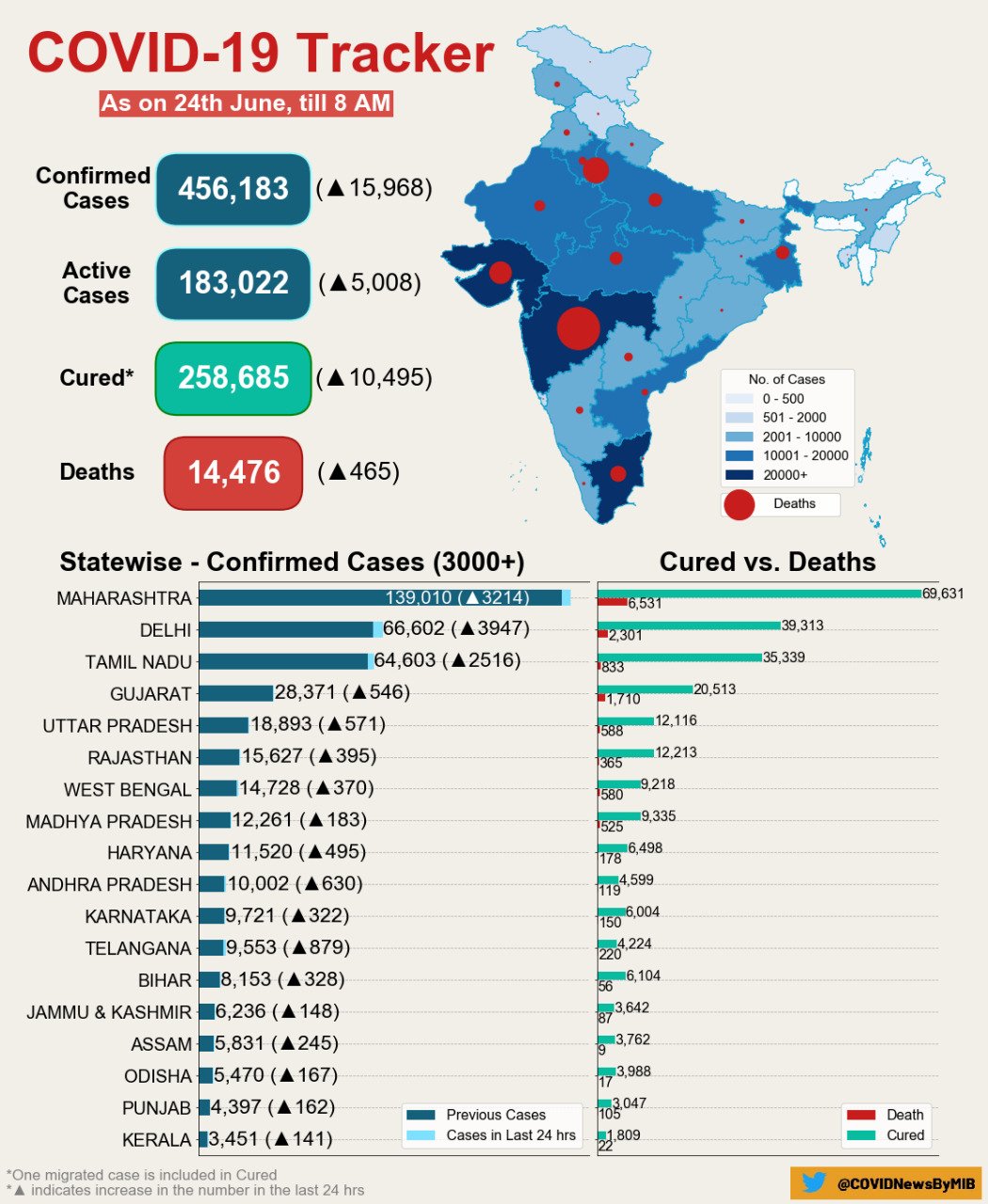 Source: Twitter/@COVIDNewsByMIB
All symptomatic patients can get tested: In a significant development, the Indian Council of Medical Research (ICMR) has expanded its COVID-19 testing strategy to include symptomatic people outside hotspots and containment zones. So far, only symptomatic people with international travel history, healthcare workers, contacts of lab-confirmed cases and those within hotspots and containment zones were allowed to get tested for COVID-19. The new guidelines issued on Tuesday said, "Since test, track and treat is the only way to prevent the spread of infection and save lives, it is imperative that testing should be made widely available to all symptomatic individuals in every part of the country and contact tracing mechanisms for containment of infection are further strengthened."
All states can conduct antigen tests for COVID-19: In a bid to ramp up testing, theICMR has recommended rapid antigen test for all containment zones identified by the state governments, all central and state government medical colleges and government hospitals, all private hospitals approved by National Accreditation Board for Hospitals & Healthcare (NABH), all private labs accredited by National Accreditation Board for Laboratories (NABL) and approved by ICMR as COVID-19 testing labs.
However, the ICMR has asked hospitals/labs to ensure that all symptomatic negative patients (under the rapid antigen test) undergo the RT-PCR test since "rapid antigen PoC test has a moderate sensitivity".
Global corona update: The global coronavirus tally rose to 93,54,860 cases of which 50,41,823 people have recovered while 4,79,816 succumbed to the infection, according to worldometer, a website that tracks COVID-19 cases across the world. While Brazil continues to report fresh coronavirus cases at an alarming rate—the country has reported 11,51,479 confirmed cases and 52,771 deaths so far—Mexico is another country which is witnessing a huge spike in cases. The country has reported 1,91,410 confirmed coronavirus cases and 23,377 deaths. In a rare case, newborn triplets have tested positive for COVID-19 in Mexico.
Story of hope: When Shahnawaz Shaikh realized that his business partner's pregnant sistercould have been saved had she received oxygen in time, he knew it was time to do something. He decided to sell off his prized possession, an SUV, to raise money to buy oxygen cylinders, reported Mumbai Mirror. A resident of Malad, a suburb in Mumbai, Shaikh has distributed oxygen cylinders to more than 250 COVID-affected families. Shaikh had earlier used his SUV as an ambulance to ferry people to the hospital.