Corona Updates You Must Track: 3,000 Fresh Cases in Delhi, Goa Reports First COVID-19 Death
India's battle with the deadly coronavirus continues. With 14,821 fresh cases and 445 deaths in the last 24 hours, India's COVID-19 tally is now at over 4.25 lakh cases
India cases and toll: India's coronavirus count touched 4.25 lakh cases on Monday morning. Of 4,25,282 confirmed cases of COVID-19, 1,74,387 are active cases, 2,37,195 recoveries and 13,699 deaths, according to data provided by the Ministry of Health and Family Welfare. India added 14,821 new coronavirus cases and 445 deaths in the last 24 hours. Goa reported first COVID-19 death, an 85-year-old woman, on Monday.
Where Delhi stands: The capital's COVID-19 tally continued to surge as 3,000 new cases were reported in the last 24 hours. Delhi has reported 59,746 confirmed cases of coronavirus disease so far; of these, 24,558 are active cases, 33,013 recoveries and 2,175 deaths. The Centre has now asked the Delhi government to realign containment zones in the capital, The Indian Express reported. Every district must be associated with a big hospital and a sero-survey among 20,000 Delhiites should be conducted, the Centre has instructed the Delhi government.
How are Maharashtra, Tamil Nadu faring: Maharashtra continues to lead the table in terms of total number of coronavirus cases reported across the country so far. Of the 1,32,075 confirmed coronavirus cases reported so far, 65,744 are recoveries while 60,161 are active cases. The western state has reported 6,170 deaths due to COVID-19. More than 3,500 fresh cases were reported in the last 24 hours while 186 deaths were added to the death toll.
Even as four districts in the state are under intense lockdown, Tamil Nadu reported more than 2,500 new cases of coronavirus disease on Sunday. The southern state has registered 59,377 confirmed COVID-19 cases so far with 25,866 active cases, 32,754 recoveries and 757 deaths.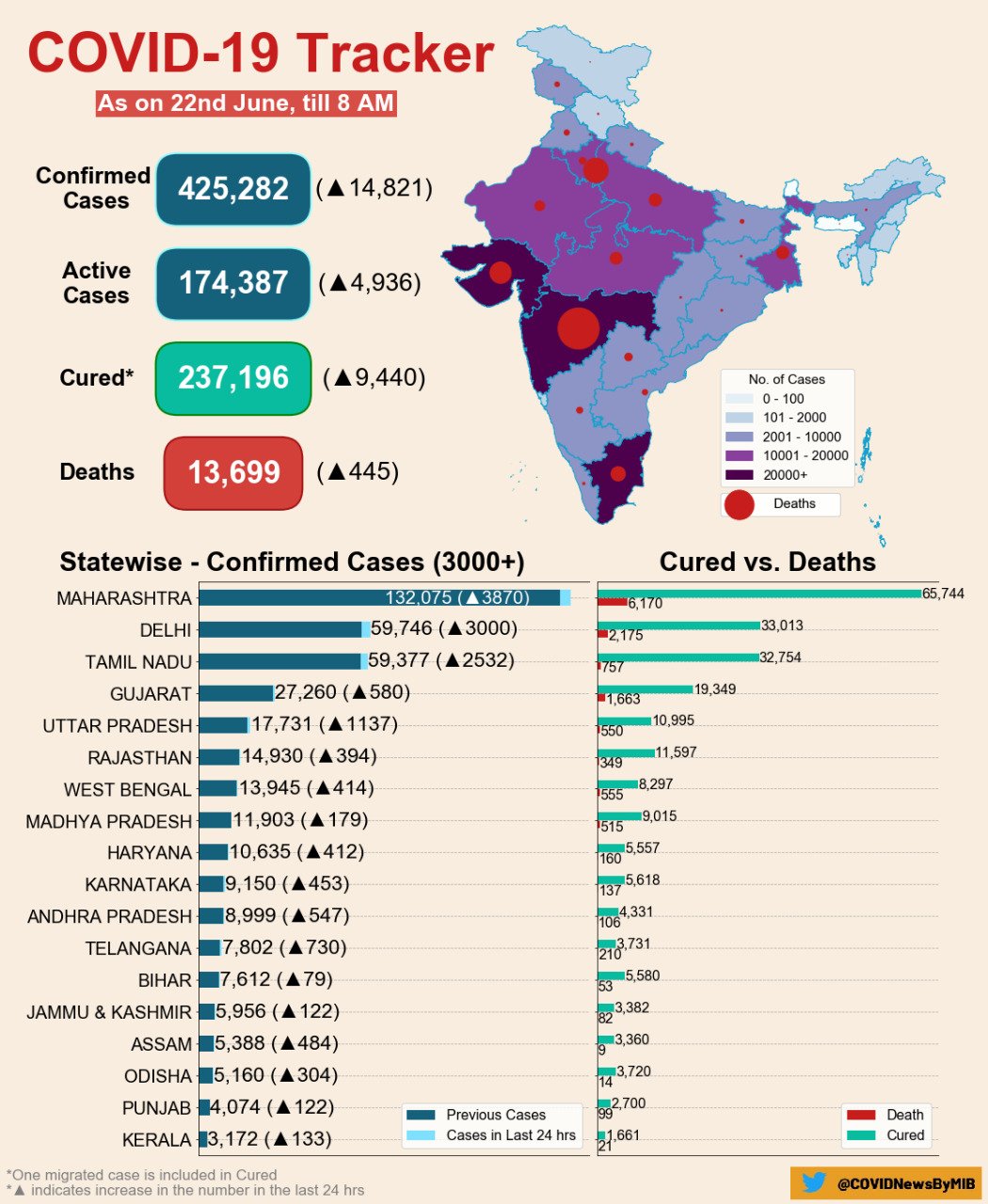 Source: Twitter/@COVIDNewsByMIB
Remdesivir for critical corona patients: The Drug Controller Genera of India (DCGA) has approved anti-viral drug Remdesivir for "restricted emergency use" on severely ill COVID-19 patients in hospitals. The drug is developed by California-based biopharma firm Gilead Sciences. In India, pharma firm Hetero will manufacture and market the antiviral drug under the brand name COVIFOR under a licensing agreement with Gilead Sciences.
Meanwhile, Glenmark Pharmaceuticals' anti-viral drug Favipiravir has also received the nod from DCGI for treatment of patients with mild to moderate symptoms of coronavirus disease. The drug will be sold in India under the brand name FabiFlu, reported Hindustan Times.
Global corona update: Globally, the coronavirus tally rose to more than 90.51 lakh cases on Monday morning. According to worldometer, a website that tracks COVID-19 cases globally, the total case count is at 90,51,535 with 48,41,941 recoveries and 4,70,795 deaths. After the US, Brazil is now the second country to cross the 10-lakh mark with 10,86,990 total confirmed coronavirus cases and 50,659 deaths. Pakistan and Mexico, two other countries where the number of coronavirus cases are spiralling, have reported 1,81,088 and 1,80,545 confirmed cases and 3,590 and 21,825 deaths, respectively.