It Happens Only In India: A Fart Competition, The Drunken Groom, Protecting Gods From Pollution And More
A collection of astonishingly hilarious incidents from India, the land of the bizarre
A restaurant in Surat decided to hold a rather unique event: a farting competition. Turns out, it's not as easy as it sounds. Although more than 200 people signed up to let out the "longest", "loudest" and "most musical" farts ever, it saw the participation of only 20 people. Out of these, only three mustered the courage to appear on stage in front of 70-odd people and a few media channels. But stage fright took over, and none of the three passed muster ... er, wind. The event may not have ended on a stinky note, but Yatin Sagtoi, the organizer is unfazed. He plans to hold the event next year, but it will be without the presence of the media then.
Source: India Today
***
A wedding baarat in North India is incomplete without the naagin (snake) dance. A pan-India favourite at parties, the dance involves slithering on the floor with hands curved above the head in the shape of a snake hood, hissing and biting at each other in mock seduction. Last month in Uttar Pradesh's Bareilly town, the groom also decided to join in. The bride, however, was not at all amused. In fact she found the groom's moves so loathsome that she called off the wedding. The drunken groom dancing wildly in front of his bride-to-be required police intervention. The groom's family had to give a written undertaking that they would return the gifts. Not quite a wife charmer, this.
Source: News18
***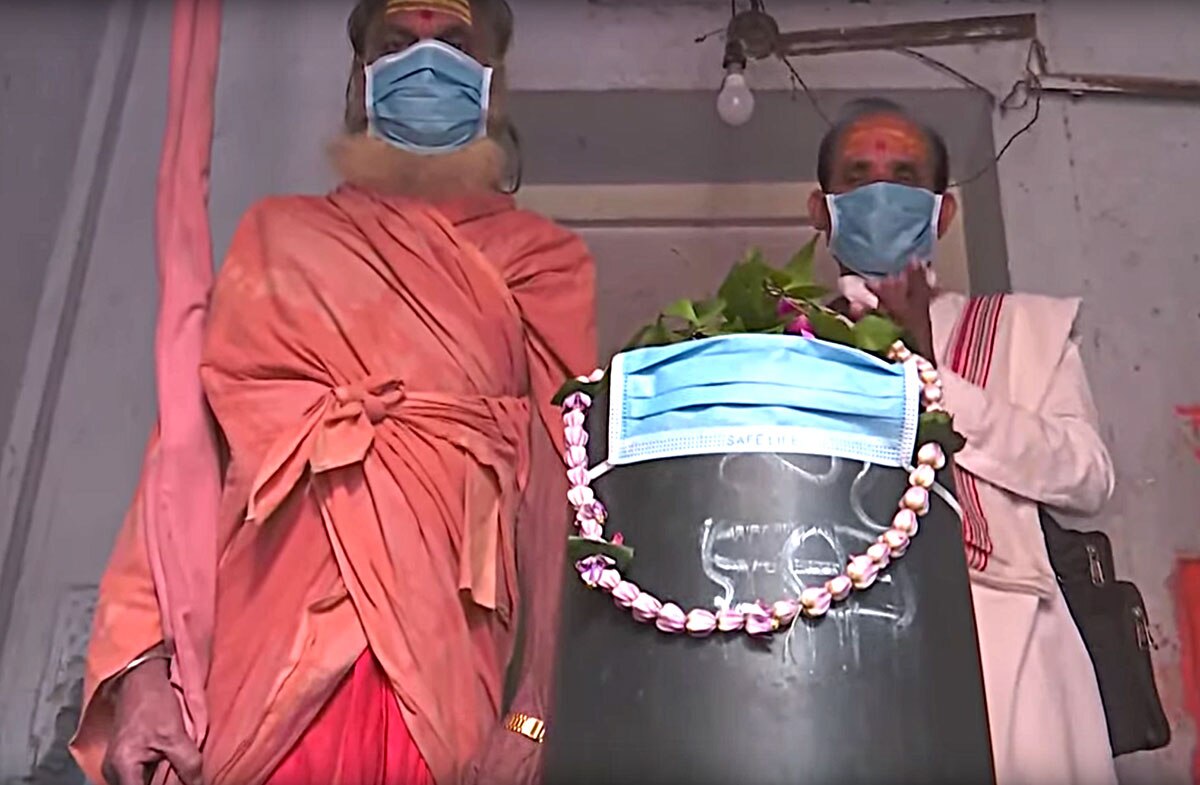 A YouTube grab of the priests with the Shiv linga covered with a mask (Photo: ANI)
Even the gods must be protected from pollution. At least that's what the priests at Tarkeshwar Mahadev Temple in Varanasi believe. When pollution levels spiked in the holy city last month, the priests not only used anti-pollution masks themselves, but also masked the deities, including a Shiv linga. It was later revealed that the faces of goddess Durga and Sai Baba were also covered with masks in another temple in the city. The masks look like surgical ones, though. We are not sure if the gods were happy, as the more harmful PM (particulate matter) 2.5 present in the toxic air would definitely percolate through, but we applaud the devotion of the priests.
Source: India Today
***
It is one thing to travel on two-wheelers wearing helmets, but totally another to sit in an office wearing them. Yet, that's precisely what the employees of the Uttar Pradesh State Electricity Department, in Banda, did last month. Their refrain was that they were wearing helmets in office for their own safety. It was reported that their office was in such a dilapidated state that they feared the ceiling crashing on their heads. The authorities, the employees complained, had not paid heed to their pleas to carry out repairs or relocate them. But with the pictures of the officials in helmets going viral, we hope that they will be heard finally.
Source: India Today