The Many Gifts of Chandralekha
Remembering a master of movement, architect of modern Indian dance and a friend to all she met
There was an aura about Chandra that lit up everything around her. Chandralekha—dancer and choreographer, activist and designer, poet and painter—had the gift of friendship. She had too the gift of elevating the most ordinary of actions—opening her gate or waving to a friend—into a narrative poem.
It didn't matter what time of day it was, Chandra always looked her best, gentle white hair framing a delicate face, with a red bindi on her forehead and kajal lining her expressive eyes. Her choice of colours spoke of a person who celebrated life and was keen to pass on its joys and excitements to anyone who met her. It was my wife, the sculptor Dimpy, who introduced me to Chandra and Dasrath, the iconic designer, at their Besant Nagar residence in Chennai which faced the Bay of Bengal. Dimpy's artistic sensibilities were highly refined; mine needed polishing. We were in our 20s then; in my case it was an age when I knew everything. What I didn't fathom, I put down to something lacking in what I was expected to understand. Initially, I didn't get Chandra or her art. I was too full of myself, a journalist, who had travelled the world and was raised in a family where Bharatnatyam was the dance form. My sister and some friends trained as dancers when young, so it was difficult to absorb the idea of someone questioning the very basis of the form. Truthfully, I hadn't given it a lot of thought. Chennai—and Chandra—gave me a second chance. After stints in Delhi and Dubai, I returned to work there. This time, we lived minutes away from Chandra, and we had a young son who then was a fan of the rock-opera Jesus Christ Superstar. Someone had given him a video, and Chandra came with her companion Sadanand for dinner and a viewing.
In the course of conversation she mentioned that she had seen the original. My son, then 13 or so, was in awe. Chandra was no longer just his parents' friend, but his too. Teenagers can be more judgemental and bigger know-alls than adults, and it was fascinating to watch a friendship develop between them. Chandra was in her 70s then. It is a special thing, this ability to speak to different age groups in their language without strain. Chandra connected effortlessly with people, from the vegetable vendor to the great and celebrated; each thought of her as a special friend.
Dimpy and I often sat on the beach with Chandra, munching peanuts while she told us stories of Henri Cartier-Bresson and other friends. After seeing her choreography Yantra, Cartier-Bresson had said, "Such wonderful slowness; slowness is the only luxury we have left in the world today."
Chandra's dissatisfaction with Bharatanatyam, a dance form with mythological content led her to give it up for over a decade while her own thinking on dance and physical expression crystallized. "She understood dance to be not a celebration of the gods but rather a celebration of man and woman—especially woman," wrote The Guardian in her obituary. Chandralekha had been a crusader for equality, human rights, women's rights, secularism, pluralism and the environment. She didn't compartmentalize—it was a great synthesis.
"It is all energy," she said, and went about combining movements from yoga and martial arts like Kerala's kalarippayattu. The additions, far from accreting to what existed, pared it down in the manner of the late works of artists like Matisse (a Chandra favourite). From 1985 to 2003, she choreographed 10 works, which re-established her reputation, perhaps raising it beyond what she had achieved as a Bharatanatyam artiste in the same league as Balasaraswati and Rukmini Devi. Modern Indian dance, she showed, could be both modern and Indian and didn't need to look towards the West for inspiration or sustenance. It was at once unique and universal.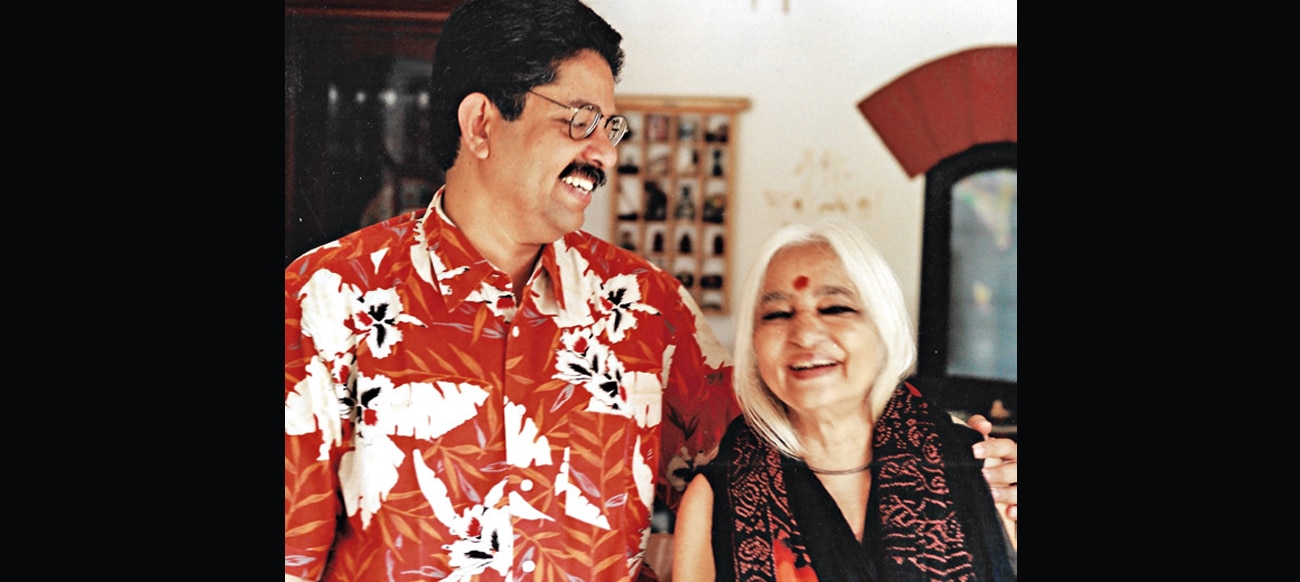 Photo Courtesy of Suresh Menon
At the turn of the century, Dimpy and I visited Chandra at rehearsals. One such, for Sharira, I think, saw Tishani Doshi, later acclaimed poet and novelist, practising to the music of the Gundecha brothers. Chandra's instructions were pared down then too. Sadanand wrote that "for her, the dancer was someone who did not merely aestheticize the body, but also stimulated the imagination by politicizing it." The question of women affected Chandra the most: women in all their roles, involving questions of sexuality, sensuality, femininity. Chandra had created the first poster for the Forum Against Oppression of Women. She was a true rebel, to quote what Cyril Connolly had said about George Orwell; many were merely stage rebels. "While men run the world, she runs life," she wrote of the burden of the woman.
Chandra was remarkably optimistic about the goodness in us. Once five of us piled into our car to the theatre for the movie Lagaan. She hadn't been to the cinema in years, and enjoyed it hugely. She was generous in her praise for a dancer. But it was after the movie that she gave us a glimpse into her faith in humanity. The driver had somehow managed to lock the car with all of us outside. I could sense the apprehension rising in me when she said with clarity and conviction: "Don't worry, this is India, someone will come to our help." And someone, a stranger, did!When she needed a break after a surgery, she came to stay with us in Bangalore. She was 76 then, having left home at 17, and said, "You can run away from your family, but you can't run from your genes." We gathered around the TV to watch the election results. Chandra was wickedly funny, her eyes dancing, her child-like laughter bouncing off the walls. The composer John Cage had once recorded her laughter and played it on a loop at the National Institute of Design in Ahmedabad. It was that precious.
Later, at the airport, she had to take a wheelchair, something that went against her grain. Humour was the counter. After one arrived and she sat in it, she told the airport assistant, "Now get some for the others too." The three of us went to Chennai to see her one last time after Sadanand had indicated time might be running out. The cancer was in its final stages, but she was dressed as always, her kajal in place. On her visit home, she had told us how she saw our house as a living being. "How is your house?" she now asked, as if she were enquiring after a friend. Then she asked of my wife, "Show me your recent works." We embraced, knowing we were saying goodbye for the last time. As I write this, she has been gone for 16 years. Few people lived in the present with Chandra's intensity. Fewer still were so unconcerned about the future.