Notes From Nature During The Lockdown
A birdwatcher in Bengaluru discovers nature's bounty by looking out of her window
The lockdown has been unusual as this is the longest time I have been at home in years, and I am actually enjoying it. When you have no choice, the best way to deal with the situation is to make peace with it. And to practise what I preach, I decide to look outside my living room window to find that I can immerse myself in my favourite activity—bird-watching.
Balcony Birding
My apartment in Bengaluru is next to a temple that houses a massive cluster fig tree. April is when the figs turn a deep red and the tree is abuzz with squirrels, butterflies, bees and birds. Nature can never be quarantined, I realize.
The activity starts early in the morning with the chirping of birds and squeaking of the squirrels. I spot the koel, Asian koel, white-cheeked barbet or small green barbet, purple sunbird, yellow-bellied sunbird, red-vented bulbul, rose-ringed parakeet, golden oriole and pigeons. Each bird has a different call—I note with fascination, when a koel calls from one tree, another koel from another tree answers, each time—a symphony and a conversation rolled into one.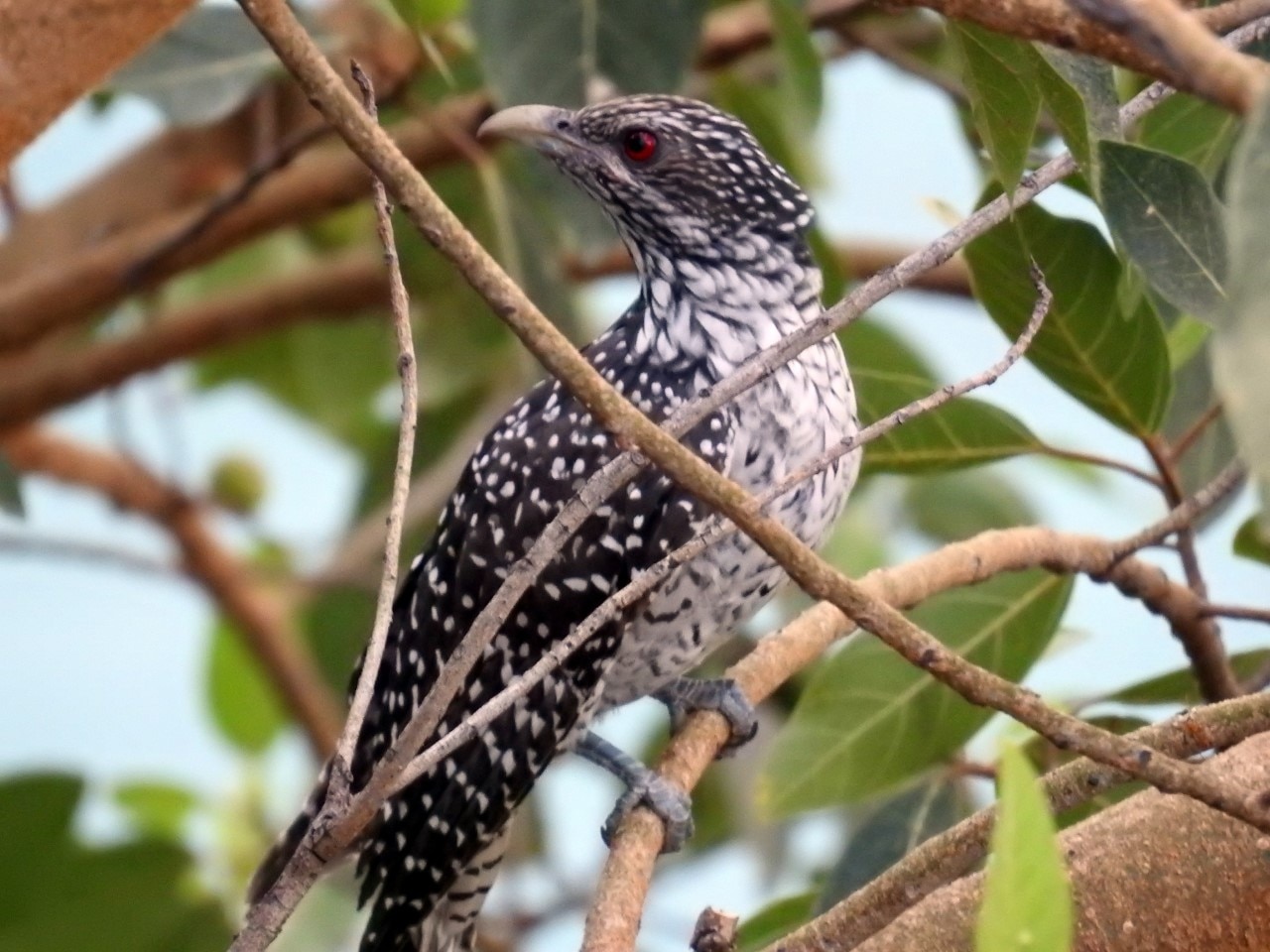 An Asian koel spotted by the writer. Photo: Bindu Gopal Rao
As the day progresses, the birds flit in and out but the squirrels have a field day feasting on the figs, while the bees buzz all around. The tree is also home to multihued butterflies that add their own splash of colour. As I watch the birds, I start noticing some of them have their favourite nooks—the myna pair always sits on a specific branch. It seems that the tree is a favourite with the white-cheeked barbet—I have managed to spot three of them here.
Nature Fix
I decide to head up to the terrace where the entire tree and, more importantly, its upper branches can be seen in their full glory. It is close to sunset, and I am welcomed by a colony of parakeets that announce their presence with shrill squeaks and park themselves atop the tree and start feasting on the figs.
The sight of so many parakeets, in bright red and green, stand out against the setting sun. Looking around, I find many trees in full bloom—the cream-hued champak, the mustard copper pod and the pink touch-me-not. As I admire the flowers, I spot a majestic black kite soar and swirl around and finally perch itself atop one of the many trees.
A myna spotted by the writer. Photo: Bindu Gopal Rao
While I stand gazing at the kite and listening to its low-pitched hoot, the sky morphs into a deep orange, making everything quite magical. Nature, unadulterated, just the way it was always meant to be.
As I finish writing, I spot, for the first time, the adorable cinereous tit, a tiny bird whose grey-black-white frame is so beautiful that I forget to reach for the camera. But I guess the beauty of nature is such that it transports you to a world that is as meditative as it is mesmerizing. As Rumi wrote, "What you seek is seeking you."