Grindmill Singing: A grassroots feminist oral tradition
These age-old songs by Dalit women have emerged as a socio-cultural and political manifesto for the disadvantaged and a voice for the unheard
A typical household in rural India epitomizes gender disparity: the man as the breadwinner of his family gets ample respect and honour, whereas the woman who is up at the crack of dawn, toiling long hours at the hearth and putting the house in order merits no such validation. A duty-bound daughter, wife or mother, she resignedly performs her chores. The only time she breaks her silence is while at the mill, grinding wheat, jowar, or bajra (millets) and crooning a tune or two that manifest as fervent monologues on the hardships of life.
These songs help forge a bond with other women who join the miller in questioning gender roles, oppressive power structures, class, caste and communal divide, and the shifting dynamics in personal ties.
Songs of the soil
The tradition of grind mill singing in India is unique because of its 'female-only' association. Women from across the Indian subcontinent have been composing and belting out songs for centuries as work on fields, while cleaning their homes, cooking or lulling their children to sleep.
"Grindmill singing is not performance art but a collection of work songs that highlight conditions of abject poverty, adverse living and the trials and tribulations that are exclusive to womenfolk. These are songs about their sorrows, grief, joy and honour—a means to intimate self-expression," says Namita Waikar, the team lead of Grindmill Songs Project by The People's Archive of Rural India (PARI)
Evidence of similar oral traditions has been found in the ceremonial and social music of the Navajo tribe in South-west America and in parts of Africa where men and women both sang during cornmeal grinding.
Women from parts of Maharashtra sing the grindmill songs in Ovi couplets also known as Jatyavarchi Ovi in Marathi where jāte means the grindmill and Ovi means 'stringing together of words'.
Some of the songs explore the relationship between women and nature. Themes such as the effect of a torrential downpour on crops, how bountiful harvests can turn fates, and monsoon pilgrimage to temple towns abound such a collection. The extensive use of metaphors in these songs picked from personal anecdotes show exemplary literary command even as most women have no formal education.
Besides masterful storytelling on various challenging facets of subaltern living, the teachings of politician and social reformer, Bhim Rao Ambedkar, forms a key highlight which inspire these marginalized women to rise above patriarchy and claim their rights. Ambedkar's message on caste annihilation lends a distinct political character to these songs which revolve around Dalit lives, their struggles and the discrimination they face on a daily basis. His feminist ideology seeks to mobilize these women beyond domestic entities and give them a sense of agency, autonomy and a means for a dignified living.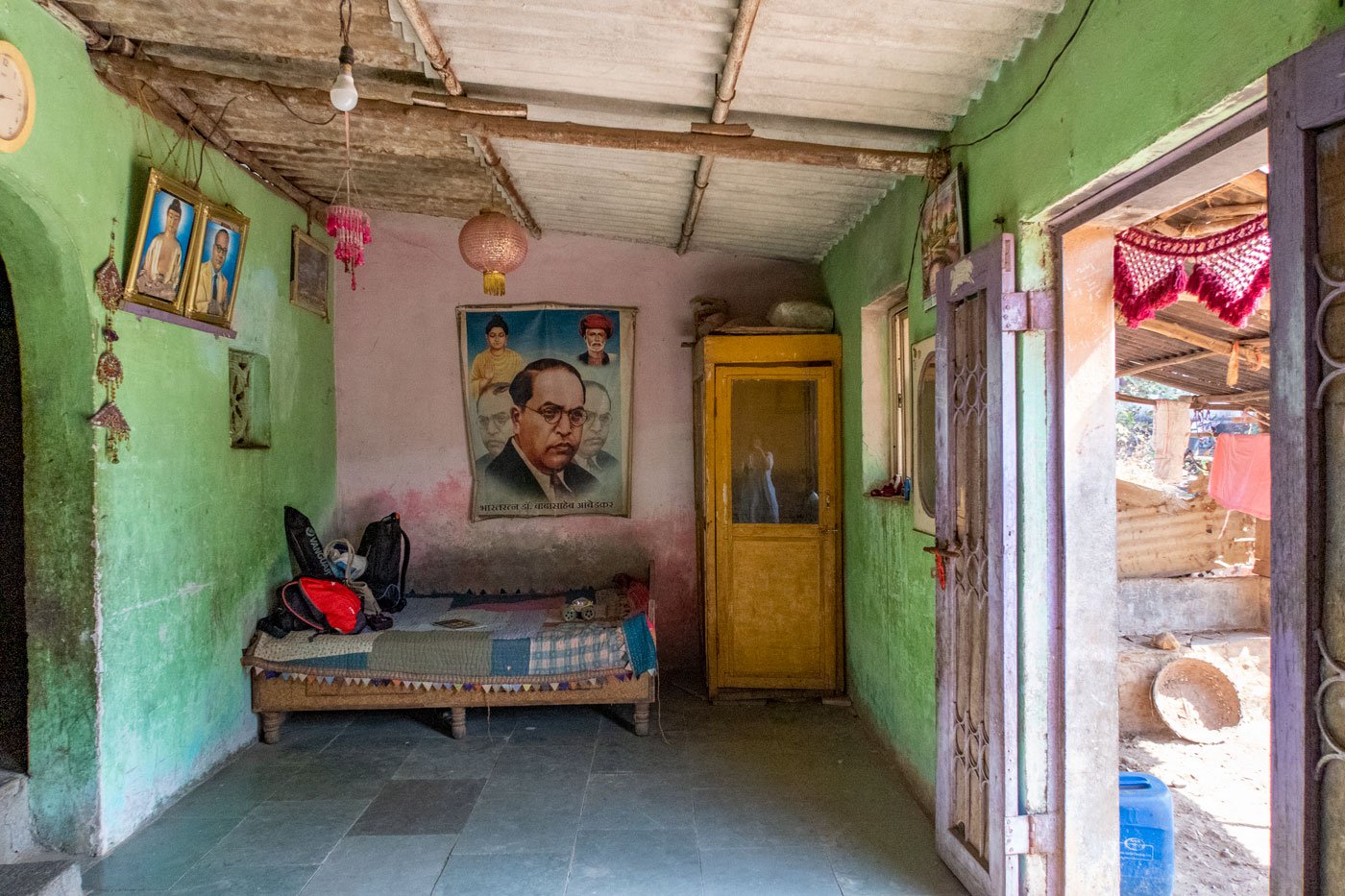 Wall of grindmill singer Kusum Sonawane featuring a poster image of B.R. Ambedkar. Pic Credit- Sinchita Maji. Source: PARI website
Lilabai Shinde of Lawarde village in Pune who takes refuge in the reforms of Ambedkar affectionately refers to him as Bhim, Bhimbaba, Bhimraya or Babasaheb while singing an ovi as she revels in the pride of his achievements. "Bhimbaba died—but who says he is dead?" she asserts as the womenfolk keep him alive in memory and their humble tributes.
With Dalit representation largely missing from mainstream narratives of life and literature, the grindmill songs corpus highlighting the plight and ordeals of many such minority women becomes a powerful testimonial to their lived experiences and realities which motivates discussions around the deep-rooted caste prejudice across sections of the society and mark dissent against the suppression of critical voices.
Saga of the unsung
Mythology and Art are also recurring themes in these songs as women identify themselves with the fabled female characters. Sita from Ramayana is one such example who after returning from Lanka had been exiled to live in the forest by her husband Lord Ram where only thorny jujube and acacia trees kept her company as she grieved. Feeling similarly mistreated by their partners and forsaken in marriages, they empathize profusely with Sita's plight, their songs contain consolation and support for her, especially when she is subjected to the test of fire, also known as Agnipariksha, to prove her chastity.
The anguish of Rukmini, the principal wife and queen of the god Krishna also worshipped in rural villages as Vitthal, at the presence of his consorts resonates deeply with the women who are abandoned by their husbands for not bearing them a son. Much to the embarrassment and agony of these women, some of these men even remarry or settle down with other women. "'I have a double", one of the singers told Waikar referring to her husband's second spouse.
The lives of gods, goddesses and mythical figures motivate these women to call out misogyny and condemn the character assassination of pubescent women, child marriage, dowry, infidelity of husbands, stripping of land rights and other forms of harassment they are subjected to.
An ode to the human condition: The Grindmill Songs Project
The traditional stone mill is relegated to a holy status by these women- 'an unquestioning god' worshipped before powdering haldi (turmeric pods) for weddings, child-naming ceremonies and other social functions. It marks the cornerstone of faith where they enshrine their deepest thoughts, fears, joys, and perhaps, the only place where they feel duly rewarded.
The sheer abundance of these songs posited the need for a methodic collection of data, classification and archiving that inspired the idea of Grindmill Song Project—a repository of well over 110,000 folk songs collected over two decades from across 1107 villages and districts in Maharashtra and 17 villages in Karnataka.
Founded by social activists and distinguished scholars late Hema Raikar and Guy Poitevin in 1987, this ambitious project continued under ethno-musicologist Bernard Bel along with translator Asha Ogale and other team members who put together more than 120 hours of recorded audio. They have also been acknowledged by UNESCO for their work.
"The classification of song texts revealed remarkable stability of these texts, both in respect with the place and time of performance. It is not uncommon to find the same ovi (with slight syntactic variants) in villages at more than 200 kilometres distance, and some texts have been traced for intact transmission over several generations," observes Bel in his paper Prosodic Patterns in the Performance of Grindmill Songs, co-authored with Geneviève Caelen-Haumont and Raikar. He also notes that it is through the process of documentation that the grind mill corpus can be better distinguished from spoken word or ordinary speech.
In 2016, the project was taken over by the People's Archive of Rural India, founded by rural affairs journalist P. Sainath. The following year onwards, PARI started publishing the digital recordings of these songs along with the transcripts, translations, and details of singers on its website. Currently, PARI maintains a storehouse of about 65,000 songs translated to English and recorded by a total of 3302 performers.
Besides sensitizing their audience about this century-old oral tradition, this archive enables free access to the material collected painstakingly over decades and lends the grindmill singers a wider audience.
Women singers around a grind mill. Pic credit- PARI GSP Team
Like most oral traditions, grindmill songs too face threats of ossification. Thanks to rapid industrialization, the advent of motorized mills has fast replaced the hand-operated version and also doubled down on the possibility of the revival of the tradition of grind mill singing.
Migration has served as another important factor causing thousands to flock to towns and cities in a bad harvest or a drought year in search of work and opportunities. This further obscured the purpose of traditional mills and the acts of spontaneous singing around them.
However, with the ongoing efforts of social researchers, the grindmill repository continues to be stocked with newer additions. "Even though Covid restrictions have limited our travels to the destinations for groundwork, the archiving process continues at the backend," assures Waikar who remains deeply committed to expanding the scope of this beleaguered tradition.