Funniest Jokes Since The Internet
Reader's Digest collects some of the most hilarious jokes which have made waves on the internet ever since its inception. Enjoy!
It has been 29 years since computer scientist Sir Tim Berners-Lee invented the World Wide Web, and we can't imagine life without it. As one humourist noted, "I put so much more effort into naming my first Wi-Fi than my first child." For many of us, surfing is now our major form of entertainment:
"9 a.m.: I'm very busy today, I need to focus and stay off the internet. "1 p.m.: *watches YouTube* baby giraffes can stand [and] run within a hour of being born."—@ThatEricAlper (Eric Alper)
And it's the primary way we express ourselves:
Facebook: "My kids are perfect." Instagram: "My kids are beautiful." Twitter: "My kids are why I drink." —@XplodingUnicorn
In true Digest tradition, we've collected the best online gags, giggles and spoofs.
INTERNET STAR
Finicky Feline
Grumpy Cat made a name for herself in 2012 when her dour puss struck a chord with like-minded humans. Kitties, it turns out, are the cat's meow online, and former web editor Emily Huh has a theory why. Unlike dog owners, who can visit dog parks, "Cat owners don't have a cat park where they can congregate to talk about their cats," she told hellogiggles.com. In other words, the internet is the dog park for cat people. Sadly, the internet's most famous critter passed away on 14 May 2019 after an illness at the age of seven, but her legacy lives on in countless memes shared by millions.
SIGN LANGUAGE
Lost and Found in Translation
Image via Engrish.com
Thanks to the internet, we know that Indians aren't the only ones mangling the English language. These translations, seen on flickr.com and news.3yen.com, need their own interpretations.
VIDEO COMMENT
When Music Meets Nature
Screengrab from YouTube
"And here we see Dizzy Gillespie, storing jazz in his cheeks for the coming winter."
This wisecracking (yet rather wise!) one-liner was left on a YouTube video about the jazz legend.
CELEBRITY SATIRE
Mind It!
These are a just a few of the hilarious tributes made to actor Rajinikanth, or Thalaivar ('boss'), whose larger-than-life roles and science-defying moves have earned him cult status among millions of fans.
"Ghosts sit around the campfire telling Rajinikanth stories."
"Rajinikanth's next movie is called Twitter. He plays 280 characters."
"Rajinikanth is so fast that his estimated time of arrival is always yesterday."
WEB GEMS
One-Liners Written in the Shower
These posts are from 'Showerthoughts', a channel on reddit.com that proves that not all 'Redditors' are mad.
"Your stomach thinks that all potatoes are mashed." —poopypiratemcgee
"Saying um is the human equivalent to buffering". —AnxietyAttack2013
"Remember when teachers used to say, 'You won't be walking around with a calculator in your pocket' … Well, look at us now." —jimmy_45
"Clapping is basically just hitting yourself because you like something." —luispimartinez
"The person who would proofread Hitler's speeches was a grammar Nazi." —PhantomDukie
VIRAL MEME
Celebrating Life's Little Victories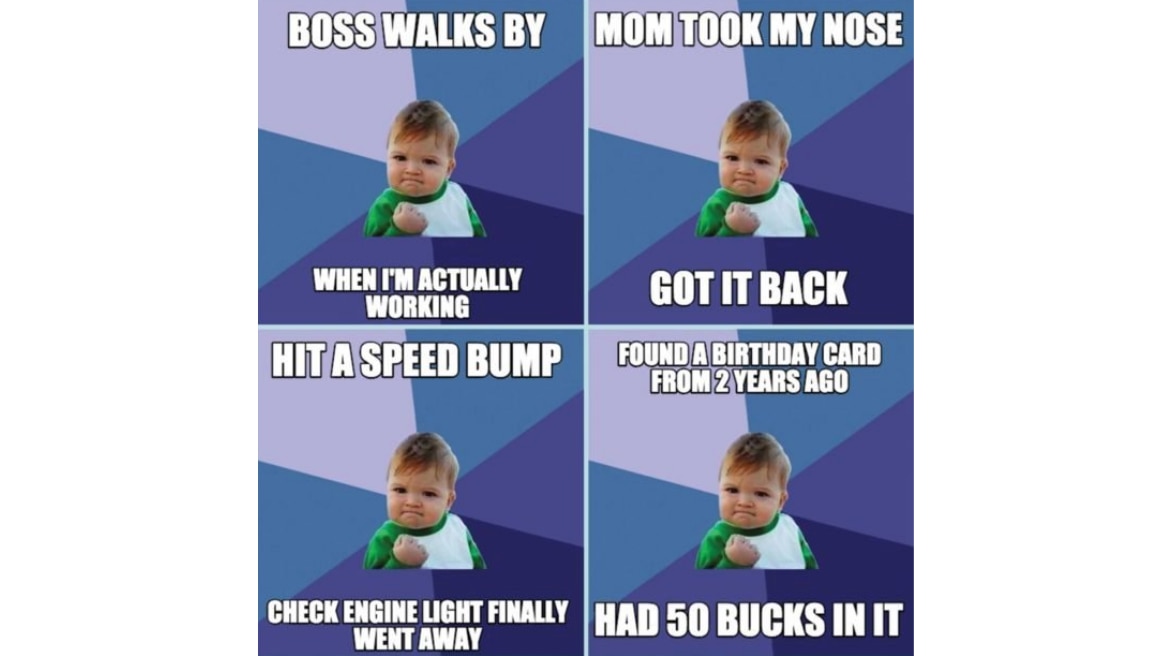 Image courtesy Laney Griner
'Success Kid' originated in 2007 when this boy's mother posted a photo of him online trying to eat sand. The internet wondered, What else could get this kid so excited? Thus was born a fist pump for every "Yes!" moment.
PET GAGS
Meow of the Wild
Image via @AlsBoy/Twitter
"Sandra, can you open this thing, bit of a situation here." —@AlsBoy
FAILURES
Mistakes That Take the Cake
Image courtesy Cakewrecks.com. Shutterstock (2)
The nice thing about the internet community is that it's happy to point out our boo-boos. Since 2008, cakewrecks.com has been sharing the foibles of bakers who tend to follow their customers' instructions to a fault.
Put Your Best Foot Forward
In an age of internet celebrities and social-media stars, some up-and-comers got hilariously clever with their self-marketing strategies.
Source: BFLOWERS via imgur.com
"I have been bodybuilding for almost 20 years now. This is how I look. I am 100 per cent vegetarian, never ate non-veg and never took drugs or amino acids. It's been very hard work, but an absolute joy to look in the mirror. My aim is to become first vegetarian Mr Universe in bodybuilding. My name is Gajhodhar … I am in the background."
DAD JOKES
That's Mean! (But He's Got Wicked Timing)
Image courtesy Tukkatar/Shutterstock
Don't Worry, Go Study
Indian pops can be strict and every desi child knows it! Ever heard one of these from a Typical Indian Dad?
"What? You want a PS3? No no, it's pronounced PhD."
"Why did the chicken cross the road? For medical school."
"90's kid? Why not 100's?"
"You're 18? When I was your age, I was 19."
"You spent how much on Beats by Dr Dre? Prepare to be beats by Dad."
GRANDMA TEXTS
She's Adorable When She's Trying to Be Hip
Humour sites such as boredpanda.com have come to understand and revel in the travails of people of a certain age trying to figure out this newfangled device called the mobile phone.
YOUTUBE CLIP
Daddy, Can You Come Out and Play?
Created in 2005, YouTube is now the world's largest video-sharing site. Today, almost five billion videos—from hair-washing tips to bleating goats that sound like men—are watched on the site every single day.
Screengrab courtesy YouTube
The image above is from a clip that has been viewed by millions. During a live interview on the BBC, American professor Robert Kelly is discussing the 2017 impeachment of the South Korean president. Kelly has been talking for just over two minutes when his four-year-old daughter saunters in, upstaging him. Trying to save the interview, the professor shunts her to the side. Not only won't she be dismissed, but a few seconds later reinforcements arrive in the person of her infant brother, toddling along in a baby walker. With his train of thought clearly having gone off the rails, the professor is then seen pausing, either trying to gather himself or contemplating his next career move. But there's hope! His wife bursts in and drags the kids out of the camera's view. She then crawls back in on hands and knees and closes the door behind her. But in his Mona Lisa smile, Kelly seems to know that his adorably disruptive family has just gone viral.
FAKE NEWS
Phoney Baloney Headlines
Because the internet is where most of us get our news, it's a great source for parodies too. The first two headlines are from fakingnews.com and the last one is from unrealtimes.com, both satirical websites that publish funny fictional news reports.
"Woman manages to ward off stalker by waving a rakhi at him, hailed on social media for her presence of mind."
"Man doesn't post heartbreak quotes on Facebook after breaking up; nobody believes that he's single."
"Sapling collapses in shock on being watered a day after World Environment Day."
DIGITAL DIGS
The Internet, Its Own Best Punch Line
Image courtesy Indiapicture
Comics found the perfect outlet when Twitter began in 2006.
"To err is human; to point it out with glee is internet." —@aparnapkin (Aparna Nancherla)
Gave up dairy two months ago. Been healthier for it. I don't know who is out there milking these almonds ... but I thank them and their tiny hands. —@thevirdas (Vir Das)
AMAZON REVIEW
The Beach Toy That Proves Bigger Isn't Always Better
This customer panned the Beach Behemoth 12‑Foot Pole-to-Pole Beach Ball, but his vivid review gets five stars.
Image courtesy Brybelly
"We took this ball to the beach, and after close to two hours to pump it up, we pushed it around for about 10 fun-filled minutes. That was when the wind picked it up and sent it hurtling down the beach at about 40 knots. It destroyed everything in its path. Children screamed in terror at the giant inflatable monster that crushed their sandcastles. Grown men were knocked down trying to save their families ... Rumour has it that it can still be seen stalking innocent families on the Florida Panhandle."
Do you have a favourite? Send it to us at editor.india@rd.com.