The Best From The World Of Entertainment: Summer Blockbusters
Our top picks for the month of June 2019
FILMS
Hindi
Bharat portrays the 60-year journey of Bharat, who keeps overcoming challenges every decade—all to keep a promise he had made to his father as an eight-year-old. Starring Salman Khan, Katrina Kaif and Jackie Shroff, the film premieres 5 June.
Kabir Singh tells the story of a brilliant but impulsive surgeon who gets addicted to alcohol and drugs, once his girlfriend is forced to marry another person. Starring Shahid Kapoor and Kiara Advani, the film is director Sandeep Reddy Vanga's remake of his own Telugu film Arjun Reddy. This film releases on 21 June.
English
Men In Black: International will be the latest instalment in the Men In Black series. This time, the protagonists face the most insidious threat ever—a mole that has infiltrated the secret organization. Releasing 14 June, the film stars Chris Hemsworth, Liam Neeson and Tessa Thompson.
X-Men: Dark Phoenix, releasing on 7 June has the mutants fighting one of their own—Jean Grey, a telepath who gains unstable, devastating cosmic powers during a life-threatening rescue mission in space. Starring Sophie Turner and Michael Fassbender.
STREAMING
An adaptation of Prayaag Akbar's novel, Leila, reminiscent of Margaret Atwood's The Handmaid's Tale, releases on Netflix. The six-episode series can be watched 14 June onwards. Leila is set in the near future in a dystopian, digitized city whose inhabitants have been segregated into communities based on caste, class and religion. In this city, Shalini is out on a quest to find her daughter, Leila, whom she feared she had lost. Directed by Deepa Mehta, Shanker Raman and Pawan Kumar, the series will star Huma Qureshi in the lead role.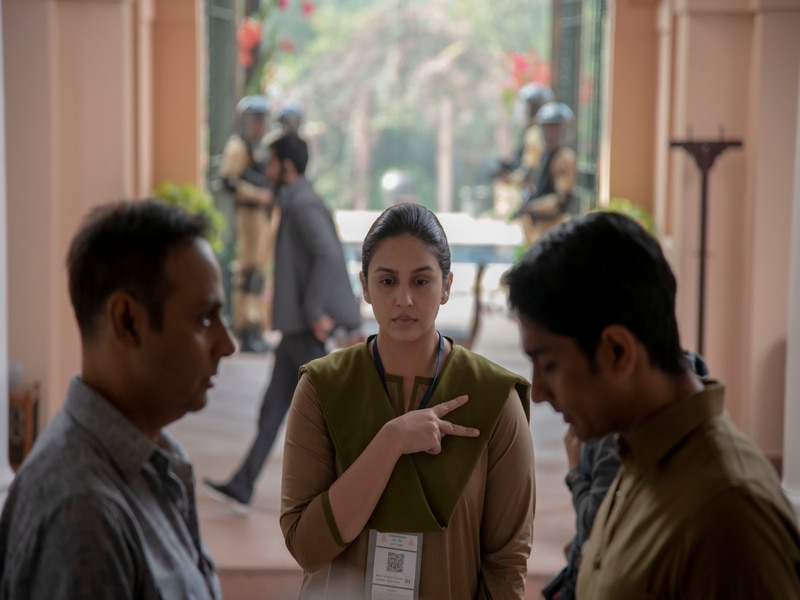 #Watchlist: On Our Radar
The Black Godfather - Directed by Reginald Hudlin, this documentary shines a spotlight on Clarence Avant, a music executive who influenced both music stars and Presidents alike.
Rolling Thunder Revue: A Bob Dylan Story By Martin Scorsese - This documentary captures the troubled spirit of 1975 America and the joyous music Bob Dylan played that year.
Still from Rolling Thunder Revue
3%: Season 3 - This sci-fi show, set in the future, is about a competition where candidates compete for a chance to live among the society's elite and affluent populace.
All of these will be available for streaming on Netflix.
BOOKS
Gun Island by Amitav Ghosh, Penguin Books
Amitav Ghosh's latest novel is a riveting read about the journey of Deen Datta, a dealer of rare books, whose life is turned upside down by the word bundook (gun). Used to living indoors, Datta is forced to embark on an expansive journey from India to Los Angeles to Venice, once his beliefs start to shift. Along the way, he meets Piya, a fellow Bengali who eggs him on in his journey, Tipu, an entrepreneurial young man, the helpful Rafi and his old friend, Cinta—and all of their memories and experiences intertwine—all these sound like a classic Ghosh novel. The story is set in a world on the brink, facing unstoppable transition. Gun Island is also a tale of hope and how a man's faith in the world is restored by two remarkable women.
YOU MAY ALSO LIKE ... India's Most Fearless 2—More Military Stories of Unimaginable Courage and Sacrifice (Penguin)
Journalists Shiv Aroor and Rahul Singh detail first-hand accounts of astonishing and inspiring bravery displayed by military personnel after the 2016 surgical strikes. The book has 14 such stories—all in the words of the heroes themselves.
Scope Out:
Shortest Way Home (Hachette)
Peter Buttigieg's autobiography weaves two stories—that of a young man coming of age and a town in America regaining its economic vitality.
The Deadly Dozen (Penguin)
In this bone-chilling collection of stories, Anirban Bhattacharyya explores what made India's most devious murderers kill and why.
Diary of A Somebody (Pan Macmillan)
In Brian Bilston's novel, a poet, whose life is already in ruins, falls under suspicion of killing his professional rival.
SPORTS
The UEFA Champions League Final, The FIFA Women's World Cup
Football fans, get set for a month of non-stop action this June!
First up, Europe's finest will collide in the UEFA Champions League final to be held in Madrid on 1 June. The Estadio Metropolitano, home to the football club Atlético Madrid, will be hosting the final this time. The English clubs, Liverpool and Tottenham Hotspur, having overcome overwhelming odds, will go head-to-head for the coveted trophy.
You can also experience the best that women's football has to offer starting this month. The FIFA Women's World Cup 2019 will be held from 7 June to 7 July in France. Twenty four nations, divided into six groups of four teams each, will compete in this elite tournament. The final will be held at the Stade de Lyon, on 7 July.
Gaming
The Sinking City*: In this spooky, action–adventure game, you play as a private investigator in 1920s America, where the city of Oakmont is being overrun by supernatural forces. Releasing on 27 June.
*For audiences 17 and older
APPS
Listen to a Good Book
Audible: This Amazon app allows you to listen to 2,00,000 audiobooks.
LibriVox Audio Books: This app offers over 24,000 free audiobooks for streaming or downloading.
Kobo Books: This reading app by Rakuten has a vast library of over five million e-books and audiobooks to choose from.
All available on Android and iOS platforms