A Family Saga From The Times Of The Spanish Flu
Members of a household in early 20th-century Calcutta come together to fight a grim fate
One evening I returned home to find my mother in bed.
"At this hour?" I was downcast.
'What is the matter?'
"Nothing very much," my mother said. 'My throat hurts, I have a body ache too ... Labanya was taking care of me, I forced her to go and rest ..."
My mother was not one to take to her bed because of aches and pains. Her forehead was hot to the touch. On checking, she turned out to have a fever of a hundred and four degrees.
"The fever is quite high. When did you get it?"
"This afternoon ... nothing to worry about, it always happens when the seasons change." Her eyes danced mischievously. "I was in need of some love ... your father will not worry unless I take to my bed ..."
I may have nodded with a smile, but there was no joy in seeing her languishing in bed. I had never known our Amodini debi to feel so sickly only because of a change of season. She was lying there, with one of the two electric lights in the room switched on. Her favourite retainer, whom I addressed as Nirmala mashi, was fanning her. Giving instructions for a cold compress, I went out to the veranda and sat down. The darkness had deepened; there was a carnival of stars in the sky. A full moon was bathing Ayutantric Bhaban generously with its beams. It was a most agreeable sight. Had the circumstances been different, I would have savoured this largesse of nature in solitude, but today I was not prepared for it.
Madhumadhabi, who had gone out to examine patients, returned home, as did my father. Both of them concluded that my mother's affliction was nothing but a fever caused by a change of season. I was relieved to some extent.
The next morning when I went into my mother's room, I received a shock on seeing her. All her natural lustre was gone, sucked away by an ogress from a fairy tale. Her eyes were bloodshot. How had her condition deteriorated to such an extent? I examined her with care, using a stethoscope to gauge her breathing; it did not seem normal. I felt I could hear a rattle in her lungs.
My father came in soon afterwards to find out how my mother was. She had passed stools twice in the meantime. Standing by her bed, he frowned and looked at me.
"It is not cholera, is it?"
"It appears to be cholera ... what is your opinion?"
I offered him the stethoscope without answering. "I hear a sound in the lungs, do you hear it?"
With another look in my direction he engaged himself in examining my mother's breathing with great concentration. Then he said, "Hmm...on the one hand there are signs of cholera...and of bubonic plague on the other ... she appears to have contracted both diseases ... the lungs sound like a patient of pneumonia ..."
Madhumadhabi entered the room. Throwing a glance at her, my father turned towards me. "What is your diagnosis?" His eyes were boring into mine.
All at once it occurred to me what a strange comedy this was; the renowned doctor, Dwarikanath Ghoshal, was seeking my opinion.
I looked at him steadily. "This is neither cholera nor plague ... this is Spanish flu ..."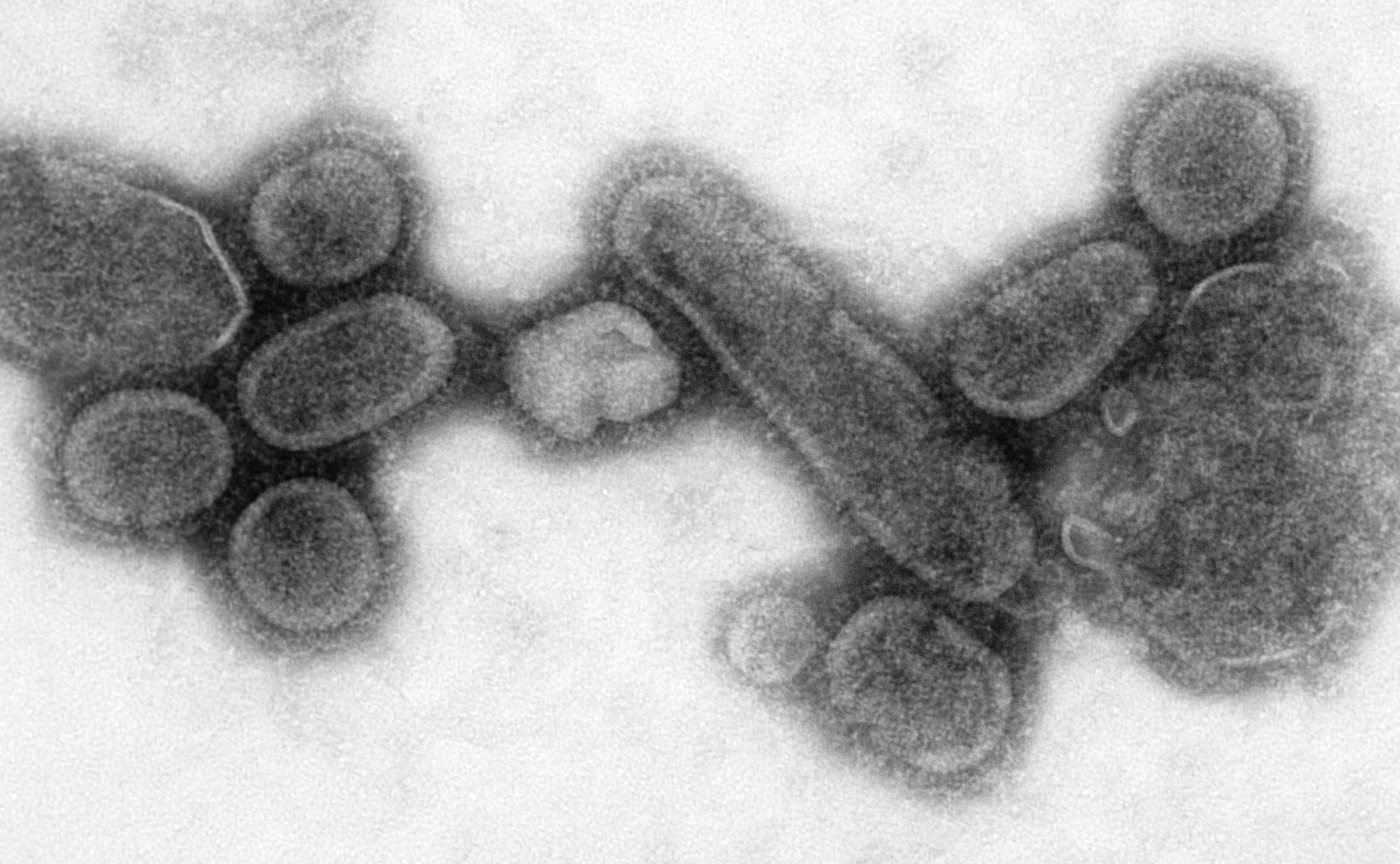 A reconstruction of the 1918 Spanish flu virus (Image courtesy Wikimedia Commons)
Lightning struck the room. My father gazed calmly upon my mother before leaving the room. When he returned shortly, it was obvious he was shaken to the core; the colours of life were fading before his very eyes. Even today I have not forgotten what he told me. The legendary medical luminary, Dr Dwarikanath Ghoshal, said, "You are probably right ... no, no, you are right ... go ahead, my son ..." He looked intensely at my mother for some time, a silent gaze that appeared to connect their hearts to each other. A smile of satisfaction appeared on my mother's lips. My father's eyes regained their usual meditative look; he left the room yet again.
Labanya, Madhu, and I took turns to apply cold compresses to my mother's brow. I prescribed some medicines, but they were unequal to the task of proving a remedy. The truth was that no cure to Spanish flu was known. Yet there was some improvement in Amodini debi's health at midnight; her lips moved, she was trying to say something.
Going closer, I heard her humming, "The light brings forth such joy from the sky, playing a tune in my heart, oh why ..." And then she paused abruptly before saying, "I cannot sing any more, Bhoba." Her eyes brimmed over with tears. That was the day I realized how an artist suffers on losing her power. What would she do with an existence as dry as dust if she could not express herself? Strange, too, was the fact that I had never heard her sing this particular song before.
"Do not lose heart, baroma ... you will sing again ... as soon as you get well ... wait, let me get some of my potion for you ... a few days and you will be on your feet again ... take my word for it ..." A smile appeared on my mother's face although she was suffering.
I had been so taken up by her illness that my faculty of thought had clouded over. Now her smile made my mind work again. It occurred to me that this was an infectious disease, which Labanya could contract and, perhaps even more important, Punya too through her. I drew Labanya aside to explain this to her. Accepting my reasoning, she rinsed her hands thoroughly with carbolic solution and went into the other room.
When Madhu had left to make the potion, my mother beckoned to me to come closer. Taking my hand, she gazed at me in silence with her eyes, a glance which seemed to bare my past as well as my future to her; she seemed be attempting to pass on everything that was noble about herself to me.
Book cover courtesy Aleph Book Company
Suddenly there was a rattling in her throat. Blood gushed out of her mouth and nose before I could react. Her eyes grew dim and still; sitting by her side, I saw the oxygen flow out of her body, her brain growing inactive slowly. Her hormones were no longer flowing, her muscles grew slack; her cardiac, pyloric, ileocecal, and all other sphincters, all the valves in her body, stopped functioning. All the pathways were open now without restriction, the locks to shut the doors within her system were useless now. Like Hippocrates, I was watching my mother's death closely, it had not occurred to me to inform anyone.
Excerpted, with permission, from A Ballad of Remittent Fever by Ashoke Mukhopadhyay, translated by Arunava Sinha, published by Aleph Book Company