5 Book Markets You Should Visit Before They Vanish
These markets are dream destinations for any book lover
July 2019 was not a very happy time for book lovers in Delhi—connoisseurs of rustling pages, guards of earmarks, sniffers of old books, collectors of first editions—who used to flock to the oldest street-side book market in Delhi's Daryaganj every Sunday, suddenly lost their safe haven. Following high court orders, the iconic book market was shut down in the latter half of July and the vendors were evicted on grounds of traffic regulations. For eight weeks, about 276 vendors were in negotiation with the North Delhi Municipal Corporation (NDMC) over relocation.
Quite the good news — following the protests and the negotiation, the book market has been relocated to the Mahila Haat ground in Chandni Chowk. As per the terms of the new contract, the Municipal Corporation of Delhi (MCD)-owned Mahila Haat will be leased out to the vendors every Sunday for two years, at a rent of ₹200 per day. The contract will be renewed after two years. Vendors and book-buyers are largely happy with the decision, and we hope that the tradition of going to a book bazaar every Sunday keeps thriving in Delhi.
It's difficult to pin down how the book market at Daryaganj came to be. Some local versions trace it back to Red Fort, while some others mention Lohe Walla Pul (The Iron Bridge)—a destination that apparently does not exist now. One of the versions also takes it back to Emperor Akbar's time. It could be useful to have a city historian put its history together.
However, Delhi is not the only city with an iconic book bazaar with an almost-mythical history and a deeply savoured presence. Take a look at the list below to bookmark the coveted bazaars in your city.
Flora Fountain Book Market, Mumbai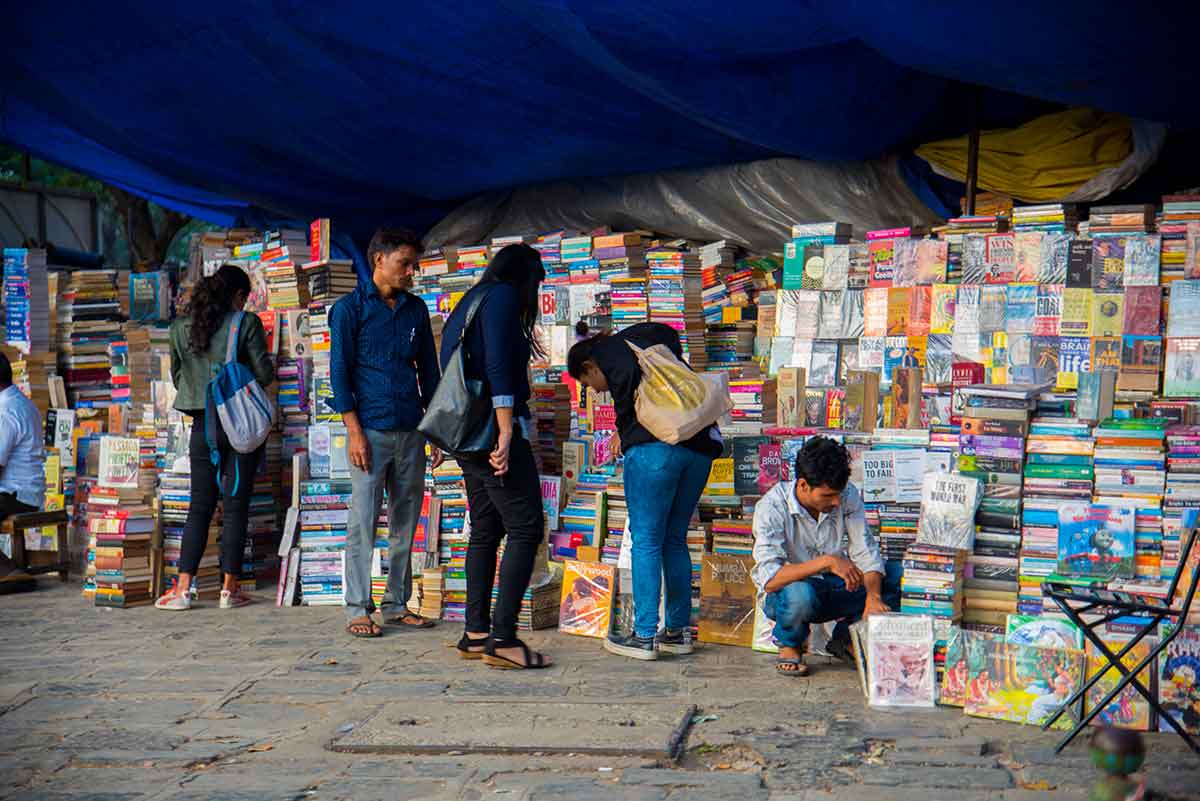 Image source: Shutterstock
Within walking distance from Chhatrapati Shivaji Maharaj Terminus and Churchgate Railway Station, this street book bazaar which has been around for nearly 60 years now, is located at the five-way intersection near the exquisite heritage monument, Flora Fountain. While it opens its plastic gates around 10 a.m., Sunday afternoon is highly recommended for a weekend book haul.
College Street, Kolkata
Image source: Facebook
Stretching from Ganesh Chandra Avenue Crossing in Bowbazar area to M.G.Road crossing, Boi Para (Colony of Books) has long been honoured as a haven for all kinds of books. Dotted with several small and big bookstores and makeshift street stalls, one can find the rarest books here at throwaway prices. The famous Coffee House which has long stood as the adda for political, poetic and literary-minded Calcutta crowd is the heart of the Boi Para. It's usually active all seven days between until about 11 p.m.
Avenue Road, Bengaluru
Running through the heart of the city, the 'original book street' of Bengaluru is located at Chickpet in the southern part of the city. Apparently, it's also a good place to sell your books off! Believed to be as old as Kempegowda I's Bengaluru, much like College Street, it is populated with both big and small stores and street-side stalls that can be as high as 9 ft! Most of the market is usually up before 10 am, and while some stores remain closed to Sunday, most of the market is weekender-friendly.
Moore Market, Chennai
Image source: Facebook
A second home for Chennai bibliophiles, Moore Market, situated near the Central Railway Station, is filled with small bookstores and big stacks of street bookshops. Most of the market starts functioning early morning onwards. A hub of second-hand books, if one is lucky enough, they can also end up finding a rare first edition here!