The Trailblazing Trio: Stories of grit, courage and determination of women whose walk to glory is a thorny odyssey
Three self-made female entrepreneurs from rural India are challenging social norms and biases with their exemplary work that seek to empower a generation of disadvantaged women
If moving mountains is what it takes to prove one's worth and mettle, women in our country have shown time and again their ability to lead by example and face overwhelming odds with tremendous self-belief, will and grace.
The CII Foundation Woman Exemplar programme recognizes and supports such changemakers across sectors of Health, Education and Micro-enterprise. Following a process of intense selection, every year it honours women entrepreneurs from villages for spearheading novel developmental projects.
This year the Exemplar Award 2021 was conferred on three women from the states of Uttar Pradesh and Rajasthan who have shown remarkable promise in their respective fields. A cash prize of 3 lakh rupees has also been offered alongside to help scale up their initiatives, expand their reach and fulfill their mission for creating widespread opportunities for the underprivileged.
Considered unequal and subservient to their male counterparts and their efforts invisibilized, they have faced it all. The regressive patriarchal and casteist society has time and again challenged their abilities to rise above their limitations but they remained unfazed and focused on their talent and calibre when it comes to making a difference.
Daring to dream
Born a Dalit belonging to the Musahar community in UP's Gorakhpur, education was only a distant dream for 44-year-old Reeta Kaushik. As a girl, her prospect of going to school and studying was almost unthinkable for her family struggling to make ends meet until she got accepted in a local private school where she had initially taken her two brothers for enrollment. The school policy of free education to one of the three children fulfilled her wish but posed its own set of hurdles.
Kaushik's father earned a meagre living pulling rickshaws in the Sadar Nagar Block of Gorakhpur and selling vegetables. He could only afford a nominal Rs 10 per student fee for his boys who were chaperoned by Kaushik to school where she was noticed by the school principal and admitted immediately. She went on to become a norm-breaker not only as the first woman from her family to get a formal education but also the first one from her entire village.
She faced discrimination early on as she was chided and even flogged for asking questions in class. Things grew worse when she joined a government school in the sixth grade. When she was in Std VIII, she was demoted in rank despite securing the highest marks in her English exam.
She couldn't help but notice how Dalit students in class were targetted and punished unreasonably by upper-caste teachers. Many even dropped out of school, traumatized, demoralized and intimidated by such high-handedness. Despite showing promise and excelling in her studies, Kaushik could never get beyond the third rank.
"A teacher's daughter was deliberately given the first position on paper despite scoring less than me," says Kaushik to whom the issue of caste divide was at first baffling but soon hit home when this incident was confirmed by another Dalit teacher in school. Kaushik took up the matter with the principal and further probes revealed the injustice and the top rank was restored to her.
The microcosm of school, unfortunately, was a mere reflection of the reality in the world beyond. College was out of bounds for Kaushik due to financial difficulties so she enrolled herself in a computer training course and landed a job as an assistant in an organization associated with social work in Gorakhpur in 1997. It was there that she faced harassment from a Brahmin colleague who reported her to the head. The gross mistreatment and backlash continued during her tenure there that reinforced the divisive mindset of society.
In 2007, during a field visits as a nodal officer in the villages of Kushinagar and Gorakhpur, Kaushik and her team were at the home of an upper-caste family. One of the members indirectly enquired about her caste status prior to serving tea. This happened later several times when she found herself served cups that were distinctly marked or broken and defective: a subtle yet hard-hitting sign of otherization.
Later, her surveys in Brahmin-dominated areas and engagement with a Dalit action group in UP brought her face to face with the atrocities and challenges suffered by members of the Scheduled Caste, including untouchability, landlessness and unemployment. The lack of land rights particularly excluded them from the benefits of government schemes as they were even denied voting function in Assembly elections.
Narrating one instance, Kaushik says that during a project by the Forest Department, many houses inhabited by minorities were razed down and their belongings thrown into the river. No rehabilitation efforts were made afterwards for those aggrieved and forcibly displaced. This was only the tip of the iceberg—"Child marriage, rape and human trafficking against members of sub-castes are the order of the day in upper-caste dominated areas, many of which remain unreported, let alone making to a court trial," says Kaushik,
Under such circumstances, education and economic independence especially for minority women could be no less than a luxury which prompted Kaushik to establish and register her own organization- Samudayik Kalyan Evam Vikas Sansthan (SKVS) in 2004. About 100 women groups have been trained to conduct awareness drives in villages on the importance of formal education of the girl child as a path to self-reliability and to urge families to re-enroll their daughters who had dropped out. Almost 1200 other girls received vocational training and a means to livelihood through this platform as well.
Reeta Kaushik (Second from left) with workers/volunteers in Kushinagar village, UP
With the help of police, lawyers, government aides and civil society bodies, SKVS managed to resolve several land rights cases for minorities and also work towards providing them with basic amenities such as food, health care, hygiene and sanitation and other resources instrumental for a dignified living.
Kaushik, who was also recognized by the Malala fund Education Champion Network aspires to build an Information Center for women in the coming days where they can opt for professional training. She dreams of free education for all girls, caste no bar.
Health for all
In a society that prefers its women behind ghoonghats and burqas, 54-year-old, Dhapu Devi of Rajasthan's Ajmer district emerged as a catalyst for change.
Married off at the young age of 14, Dhapu's in-laws called for a separation of the couple until she gave birth to a boy. As the family expanded, it became difficult to sustain with the nominal income earned by her husband as a daily wage labourer. This made her finally cross the threshold of her house as she ventured outside to help supplement the earnings.
Despite no formal education, she eventually managed to bag a salaried job at a solar cooker and water cooler-making unit. While her rebellious expedition fetched rebuke from many in her community, her ability to earn independently proved to be a blessing when in 2013, her husband passed away from cancer. Widowed with six daughters and a son, Dhapu's braved the loss and marched forward to continue fending for her family.
As a child, one of her daughters developed anaemia and became critically ill. When medical treatment did not help, she took the advice of well-wishers and tried a popular local remedy—amritchuran, a powder mixture comprising several natural herbal products—that was prepared and distributed by local Anganwadi workers. Remarkably, the remedy worked to improve her daughter's condition.
Years later, Dhapu Devi came across an SBI Youth for India worker from Mumbai who was looking to set up a dedicated production unit of this herbal mix as a dietary solution for malnourished children and women in the area. Reminded of her own experience of helplessness at the plight of her child and the gains wrought from the inexpensive, easily procured remedy, Dhapu joined in the effort. Initially overseeing operations, she soon set up a production unit with the help of Barefoot College in Tilonia village in 2016. She also began training more women who participated in the large-scale production of the item and also in its packaging, sales and marketing.
Amritchuran, loosely translated as 'divine powder' is actually a blend of five locally grown ingredients of sesame seeds, peanuts, bengal gram, wheat and powdered jaggery in specific proportions. Touted as nutrient-dense and preservative-free, this food mix was later rebranded as 'Super 5', packed in 250 gm, 500 gm and 1 kilo batches and distributed in 40 villages. The single-use sachets were distributed free of cost in government schools and are now in the talks for being included as part of mid-day meals.
Said to be lab-tested and certified by the Food Safety and Standards Authority of India, this mix initially drew flak because of its home-grown nature whose benefits remained unsubstantiated by formal studies or research but with food licensing, better unit infrastructure, quality and hygiene measures, its production scaled up drastically.
Dhapu Devi demonstrating the ingredients that go into the Super 5 health mix
During the outbreak of the pandemic, 350 kilos of Super 5 used to be manufactured every day which was then packaged and sold as part of the COVID survival kit to almost 150 hospitals and other health centers across the state.
A joint study by another SBI programme worker and the Barefoot College's medical team listed the benefits of the Super 5 after covering 1200 children's nutritional status over two quarters. An assessment of their blood samples after the study has shown substantial improvements in haemoglobin and calcium levels. The findings further claim Super 5 to have helped reduce first-degree malnutrition in children aged between 6-14 years by 25% and also treated anaemia by 3.5%
"So far, there have been no complaints on the merit of the product as it has only benefitted women and children many of whom reported to me and my team personally," says Dhapu Devi who leads a team of 10-15 women responsible for the production of the churan and almost 200 Village Level Entrepreneurs (VLE) who stock, sell and promote the item far and wide.
She aims to take her product to thousands of people and within the next five years, to two neighboring states. Talks are also on to include it in mid-day meals in the schools, 22 of which uses it already and other government programs as well. As part of her next five-year plan, Dhapu Devi wishes to train at least 100 women for upscaling homemade production and expand the Super 5 project to other districts in Rajasthan and as separate pilot projects in at least two more states.
Rising tall against odds
It was a double whammy for 37-year-old Minu Mandrawaliya when she had to suffer from caste-based discrimination and disability at the same time. Minu, born to a Dalit lost both her lower limbs to Polio at an early age. Married off to another disabled man after 12th standard, Minu faced the wrath of the in-laws who deemed her incompetent.
Battling the odds, Minu managed to join a free month-long training on bag-making facilitated by Rajasthan Samgrah Kalyan Sansthan (RSKS) in 2009. Her strong will and determination coupled with solid skillset and precision made her work stand out and she was made a vocational trainer for marginalized women. Together with the RSKS team, she was able to mobilize almost 13,000 women in 150 villages towards economic empowerment through her training.
"My body may be crippled but my mind is firm and well-functioning," says Minu who recollects attracting mixed reactions of others when she entered the business as a person suffering from disability.
When her micro-enterprise fared well, Minu even ventured into garment-making and beautician training by the virtue of online classes and tutorials to create more business opportunities for women. Her remarkable efforts made her an RSKS board member 4 years later.
However, her road to success was anything but smooth. Minu would take the public bus to travel to the other village which lacked special seating or conveyance facility for people with disabilities (PWD). The remotely spaced bus stops required her to travel several kilometers using only a pair of crutches.
"A lot of people looked up to me as an inspiration and sent more women to work citing my example," says Minu who besides selling a bulk of finished items at weekly bazaars also arranges exhibitions to showcase the best works for better exposure of the craftsperson behind them.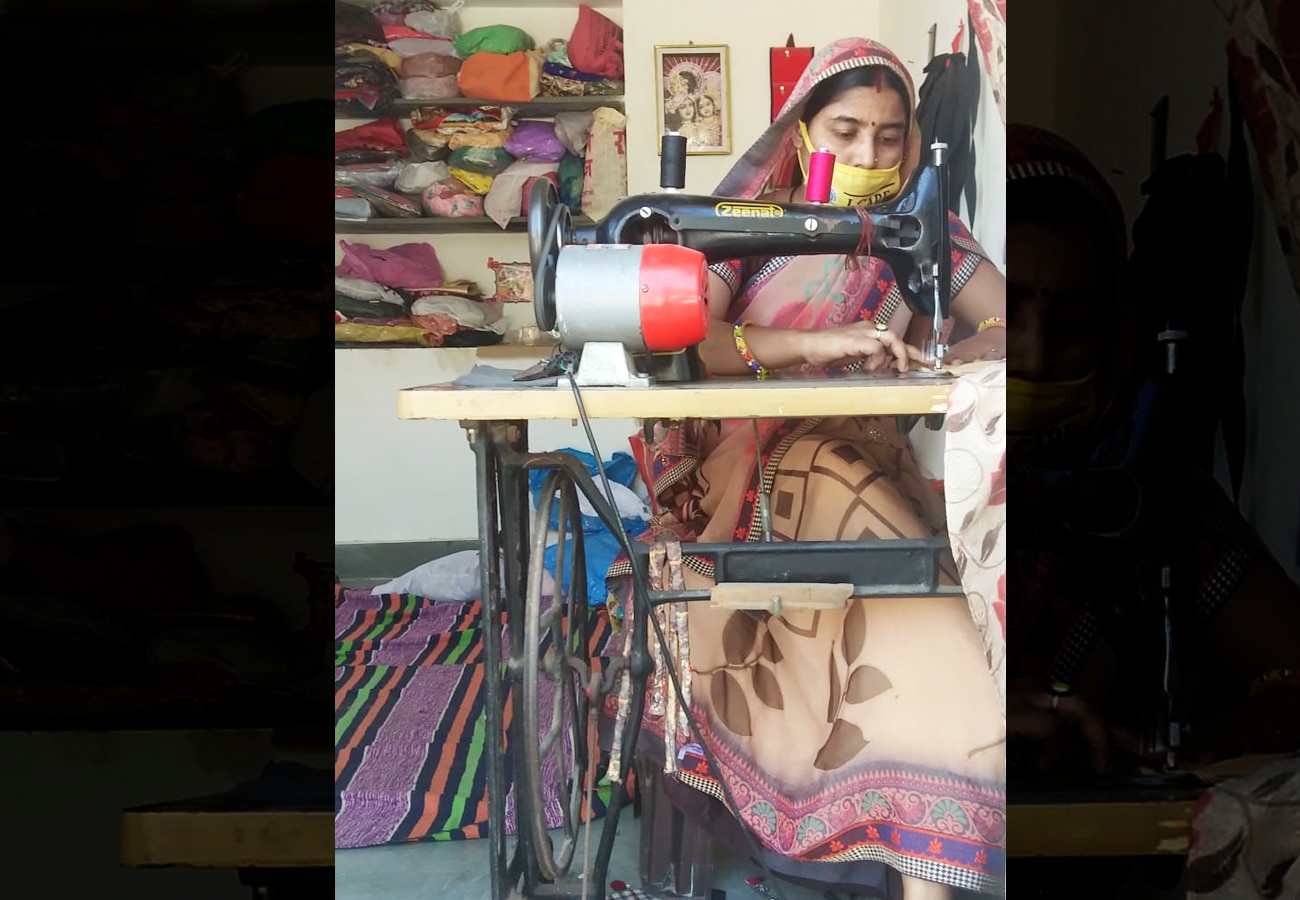 Disability no roadblock for Minu Mandrawaliya at work
Her training programmes welcome people from all ranks, class and creed and even inspired a sanitation worker to join the course and now dreams to own a beauty parlour someday.
During the COVID outbreak, Minu's team worked relentlessly and produced close to 2 lakh masks which they distributed to almost 150 hospitals and other health care units in villages along with medical kits absolutely free of cost.
Besides her professional gains, she remained thoroughly supported by her husband who transformed from being a force of resistance to the staunchest supporter in her resolve to make a difference in society. A self-starter herself, Minu formed self-help groups that can connect people to avail loans from private banks or NABARD or opt for various micro-credit schemes for starting their own businesses.
In the next two-three years, Minu is trying to have her training programme reach 30 more villages and train almost 30,000 women and create a pool of master trainers who can further transfer the skillset to others. She has petitioned before the RSKS to provide the funding for her project expansion and is also in need of donations to support her work fully.
She also wishes to pick up digital marketing skills to be able to handle bulk orders single-handedly and tap a market online for her hand-made products. When asked about her aspirations for her community, Minu demands fair travel concessions for the marginalized, improved commute facilities, disabled-friendly washrooms among others for a more inclusive society.
Minu along with her batch in micro-enterprise programmes