These Children are Home, But Not Alone
The SOS Children's Villages International continue to bring hope to orphaned kids around the world
Driving through the bumpy dust tracks that were once the badlands of Faridabad, I finally arrive at a gate behind which lies an extraordinary village. It is a relief to escape the blinding midsummer sun over Greenfields and enter the house, where Molly Mathew and her five children live.
Their living room is dark, cool and neatly decorated—there's a TV in one corner and a personal computer next to it; the sofas are lined with lace that brings warmth and grace to their cosy home. The aroma of delicious sambar wafts in from the kitchen, where, at a glance, I notice steel bowls arranged neatly in a pyramid. The walls of the living room bear a cluster of photographs—of children mostly, of varying ages, and an elderly gentleman they all call Papaji (see below). Molly, 56, has an infectious smile that spreads around the room quickly. Some of the kids step forward to say namaste; others, a trifle shy, silently clutch on to their mummy's dupatta.
Molly used to be a nun in Kerala years ago, before she decided to move here. The children—born to a lesser god—were either orphaned or abandoned, and ended up alone in the world. It was the SOS village that brought them together. This is the space where Meenu*, Baby, Rini, Indu and their brother Romit feel loved and safe. The only place they know they can call their own.
The SOS villages' goal is simple yet powerful: "When a child loses everything, SOS Children's Villages International is there to give them a family and a home. We raise orphaned and abandoned children and provide them with all the things a normal family would: food, clothing, education, medical care, but, most of all, hope."
SOS International has been nurtu-ring children, the world over—87,100 orphaned and abandoned children in 572 villages spread across 135 countries—for almost 70 years. In India there are 32 villages in 22 states where over 26,000 children are being cared for annually. With the number of parentless and abandoned children expected to grow from 20 million to 24 million by 2021 in India, SOS villages have an increasingly crucial role. But it all began in Imst, a village in the Tyrolean region of Austria, way back in 1949.
A file photo of Hermann Gmeiner with children from SOS villages
Alberschwende, a sleepy village tucked away in the rolling Alpine foothills of the Vorarlberg province of Austria, is where Hermann Gmeiner was born. He was the seventh of eight children of a poor farmer couple. And before he could get to know what a mother's love meant, at the tender age of four, he lost her. Hermann was a bright boy and attended the local grammar school. He earned money by serving as an altar boy and a tutor. His elder sister Elsa became a kind of foster mother to him and brought him up with love and compassion.
In 1939 at the onset of the Second World War, Gmeiner was enlisted by the Germans and dispatched to the Russian front as a soldier for six years. Once, when Gmeiner was faced with a Russian soldier who was about to shoot him, a seven-year-old local peasant boy saved him by yanking the assaulter's arm. In 1962, in an interview to The New Yorker, Gmeiner said he had decided to repay the boy by helping the world's children.
By the time the war ended, there were thousands of orphaned children all over Europe. Their misery and deprivation had left a deep gash in young Gmeiner's heart. There were also large numbers of women who had lost their families in the war. Remembering his sister's role in his life, and his own desire to help children, Gmeiner came up with an idea that is the cornerstone of the philosophy that SOS villages are built on.
After his military stint, even though Gmeiner had enrolled himself for medical studies, his strong desire to bring hope to orphans compelled him to give it all up. He started a home for children with $42 in his pocket and donations from a few fellow Austrians. The rest is a significant chapter in the history of giving. Gmeiner, down the years, inspired generations of children all over the world who feel blessed to have been part of the SOS family and are now paying it forward by changing lives themselves. Dr Muruga Sirigere, 34, is one such 'child'.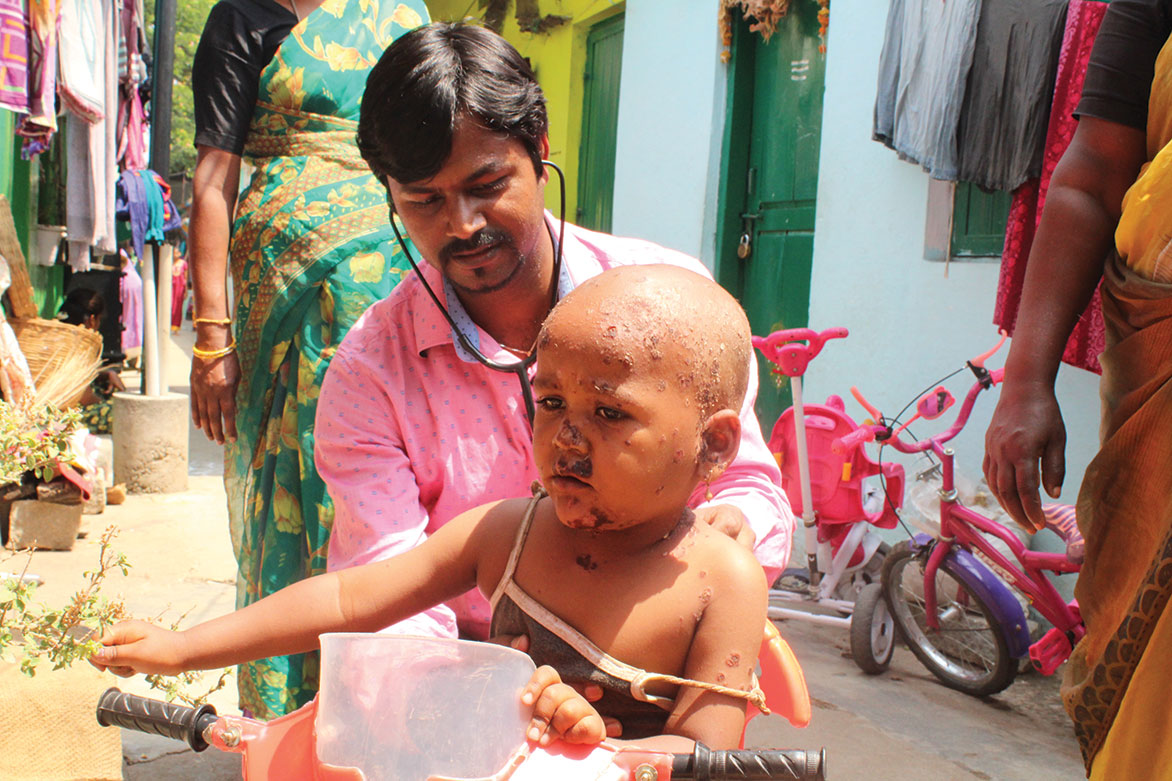 Sirigere treating sick children. Photo courtesy: Muruga Sirigere
Five-year-old Muruga came to the Bangalore SOS village along with his brother in December 1989. Born to a labourer and an agarbatti-maker, he was brought up under unspeakable hardship. "Then my father died suddenly, leaving my mother with the task of bringing up five kids. Life in our Madiwala shanty got tougher." The abiding memory of his early SOS village days is the "love, care and affection" of his village mother M. C. Girijamma. In fact, growing up in this new environment, he no longer had any worries. "All I had to do was study—everything else was taken care of," he says.
Always a bright student, Muruga breezed through school, got an opportunity to go to high school in Canada, returned to India and attended medical school in Mysuru.
As a doctor, he now works with children with special needs, especially those with cerebral palsy, Down's syndrome, and speech and hearing impediments. "My main inspiration is Dr Gmeiner—like him, I wanted to work with children because I love them," says Sirigere.
This year Sirigere was awarded the biannual Hermann Gmeiner Award, given to men and women who were cared for in SOS villages and are role models today. He shared the award with Maria Anggelina, from Indonesia, an activist fighting human trafficking—they were chosen from eight finalists out of 71 nominees across 30 countries. "Whatever I am today, it is because of my SOS family. I am thrilled with the award, but it also means more responsibility," he adds.
Married earlier this year, Sirigere sounds content with life. "What more could I ask for, I have a large family—my [SOS] mother lives in Chitradurga, and my brothers and sisters have settled down around Bengaluru—and all of us remain closely bonded." Sirigere often returns to the SOS village where he grew up and where he is sponsoring a child.
If Sirigere has made India proud by serving needy children, Tulsi Parihar, 59, has the distinction of being the longest-serving SOS mother worldwide. At 22, when her husband suddenly died, she was left alone with a baby girl aged two. Hearing about SOS villages, she visited Greenfields in Faridabad with her father and fell in love with the idea that powered the institution. Having joined the Bhimtal village in Garhwal, she has mothered 19 girls and 17 boys in the past 34 years. Set to retire next year, Parihar looks back with great fulfilment. "I don't know how my life has passed. I was busy with the children, and never got the chance to worry about myself," she says. Her biological child grew up with those in the SOS village. "No one could tell she was born to me. For me, all my children are the same," she laughs.
Looking at Parihar, Sirigere, Molly Mathew and their ever-expanding families you can see that Gmeiner's dream has come true. The Mathew family eats together, squabbles sometimes, celebrates Diwali and Christmas, fights over the TV remote, but loves each other to bits. Just like any other Indian family.
LEADERS SPEAK
N. Kaul, widely known as 'Papaji', was the third president of SOS India. His son Mr Siddharth Kaul, now the global president of the SOS Children's Villages International, speaks on the organization's role today: "When the organization was created [after WWII], there was hope for a new world of peace and harmony. Unfortunately, this has not been realized. SOS International today is called upon to provide care and fight for the rights of children who are traumatized and displaced by wars. For example, in Syria and Iraq, we run special mental health-care programmes for children and adults who are severely distressed, feel rejected and see society in a negative manner. In all kinds of adverse situations, we strive to restore children to stable environments because we believe that every child needs to grow with love, respect and security."
But, Mr S. Sandilya, SOS India's president, reminds us that all of this is possible only through the generosity of multiple stakeholders. "SOS India has to become 100 per cent self-reliant by 2020, which is daunting. Hence we need the support of governments, corporates, institutions and individual donors across the country."
For donations and queries visit www.soschildrensvillages.in
(All children's names have been changed.)