Electricity from water? Yes we can!
Safe, green energy, a school for the transgender community and India's largest cancer palliative care programme, all feature in this month's positive news.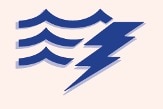 Green science
Who would have thought it possible to create electricity from water without a fuss? Scientists at the National Physical Laboratory (NPL), New Delhi, did the impossible at room temperature by building a hydroelectric cell, a device that creates green energy. The team, led by Dr R. K. Kotnala, found a way to use water, magnesium ferrite pellet, zinc anode and silver cathode to break up water molecules into hydrogen and hydronium ions. The latter eventually generates an electric field. The energy from four hydroelectric cells can operate a small plastic fan or a 1W LED light. Now that's clean energy, minus greenhouse gas emissions!
Second chances
Equal opportunity, for real-that's the mantra for India's first school for the transgender community. The Sahaj Alternate Learning Centre in Kerala opened its doors on 30 December 2016 to school dropouts. The community faces a high dropout rate, and they are often forced to take up low-paying jobs to support themselves. This will hopefully change. The school offers seats to 10 transgender students at a time, who are taught by volunteer teachers and social workers. The objective is better job opportunities and a chance at true social integration through education.
Close to the heart
Set up in 1996 by Harmala Gupta, a cancer survivor, CanSupport runs India's largest home-based palliative care programme in Delhi and the NCR (National Capital Region). The NGO offers care to around 1,500 patients at any given time. Besides offering high standards of care to underprivileged patients free of cost, the organization also trains caregivers, offers counselling and rehabilitation to families that are battling cancer. To join their fight you can donate at cansupport.org or volunteer your time.
Sources: Environment: indiatoday.intoday.in, 20 October 2016; Education: Thomson Reuters Foundation, 30 November 2016