6 Extraordinary Children Who Are Showing The World A Better Way And A Brighter Future
These young guns are setting the standards of what bravery, kindness, talent and intelligence should be like
The Girl who Faced the Fire
For 12-year-old Camelia Kathy Kharbyngar, it was just another quiet evening at home in Shillong, Meghalaya on 6 July 2017. She was in her room studying, when she heard her aunt calling from outside. "Fire!" The inferno first started at their neighbour P. Kharmalki's house and soon spread to theirs. Her parents were away at work at the time.
Camelia, with her brother, Keith at their home in Shillong
Camelia ran while calling out to her brother, who was also inside. "The fire was spreading and he didn't respond, so I ran in," she says, recalling the events of that day. Her brother, who is mentally challenged, is five years older than her. "He didn't know what to do and was scared when the fire spread," she says. Camelia swung into action and carried her brother out on her shoulders while the fire raged. She laughs when asked if he was too heavy for her. "It was hard, but I managed," she says. Her only goal was to bring him to safety. "I was afraid but I thought about my brother and ran inside. At the time, I didn't fear anything," she explains. The house was gutted within a few minutes.
Camelia, now 14, studies in class nine at Shillong's Loreto Convent. She loves biology, reading and, like other teenagers, hanging out with friends. For her valiant act, she earned the Bapu Gaidhani National Award for Bravery in 2018. "We are very proud of her," her mother, T. Kharbyngar, says.
By V. Kumara Swamy
The Girl who Fought her Fate
Two years ago, in a small boarding school in Odisha's Kalahandi district, all the children were preparing to leave the hostel and return home for the Durga Puja holidays, except one. Twelve-year-old Ranjitha Majhi simply refused to go. When the headmaster asked why, she offered a heartbreaking explanation: Her parents were planning to get her married to a much older man, despite her protests. If she went home, her fate would be sealed—under the thumb of a 30-year-old alcoholic.
For her parents, who made ends meet by providing occasional manual labour or selling gutka and vegetables grown in their locality, the decision was not extraordinary. Caught in a grim cycle of poverty, lack of work opportunities and antiquated traditions, most families in their tiny tribal village married off their daughters at a young age. But the intrepid pre-teen dared to explore a different path. "Children should be allowed to study. It's wrong for parents to marry them off at a young age and deny them the opportunity to stand on their own two feet," says the youngster, who loves geography and music.
(Right to left) Ranjitha, with her sisters Archana and Sanjita
Ranjitha wrote a letter to the school headmaster stating her dilemma. He sent it to the district collector, who passed on the document to the district's Child Protection Unit. With their help, she was relocated to Nehru Sevashram, a local children's home, with her two younger sisters, Archana and Sanjita, then seven and 10 years old respectively.
Ranjitha's stand against child marriage earned her an ICCW National Bravery Award in 2018. Archana and Sanjita, who had so far not been allowed to study, are now regular students at the local school along with their braveheart sister. They hope to, one day, become gainfully employed—a future far brighter than the one they once faced.
By Ishani Nandi
The Girl who Shoots for the Stars
If the human race ever finds a way to live in space, 15-year-old Nidhi Ma-yurika's ideas may help. The class-10 student at Bengaluru's Narayana Olympiad School, won the prestigious NASA Ames Space Settlement contest three years in a row for her space colony designs and concepts—Saikatam, a three-layered settlement with Earth-like conditions on the moon (2016); Soham, a colony that can launch sa-tellites (2017); and Swastikam, where synthetic organisms will adapt to space conditions and evolve to create a new ecosystem (2018).
Nidhi proudly shows off the medal and certificate from her first win in 2016.
A long-time participant in science competitions, Nidhi first came to know of the NASA contest from her school principal in class five. She dove into the subject, seeking help from her brother and idol, A. K. N. S. Mukundh Bhushan. "Creating the designs was certainly time-consuming, but very interesting as well," she says, "Research is never a waste of time because it gives me a chance to learn more and be able to come up with my own theories." Ever assiduous, Nidhi starts her day at 5:30 a.m. for study daily, goes to school and special classes for her engineering entrance exams and does extra reading on space as well.
Nidhi dreams of being a cosmologist one day, and believes that education "should break boundaries rather than creating them. I aspire to create a more reason- and science-oriented society, and emphasize on the scientific aspect of saving the Earth," she says. Her advice to youngsters: Know what you're best at, work on it and be unique.
By Vanya Lochan
The Boy who Captures the Wild
"I used to travel with my father, an avid wildlife photographer, to the forests. He was the one who introduced me to the medium," remembers 11-year-old Arshdeep Singh from Jalandhar. "One day, I grabbed my father's camera to take a picture. Seeing my efforts and the result, my father gifted me a DSLR camera on my fifth birthday." Since then, there's been no looking back for the young Arshdeep, who became the prestigious Wildlife Photographer of the Year in 2018 in the Young Awards category (10 Years and Under).
Arshdeep hones his skill behind the lens during trips to wildlife sanctuaries and national parks under the expert guidance of his father, who he says is his "guru, who taught me everything." His other idols include the American photojournalist, Tim Laman, and British photographer and conservationist, David Yarrow.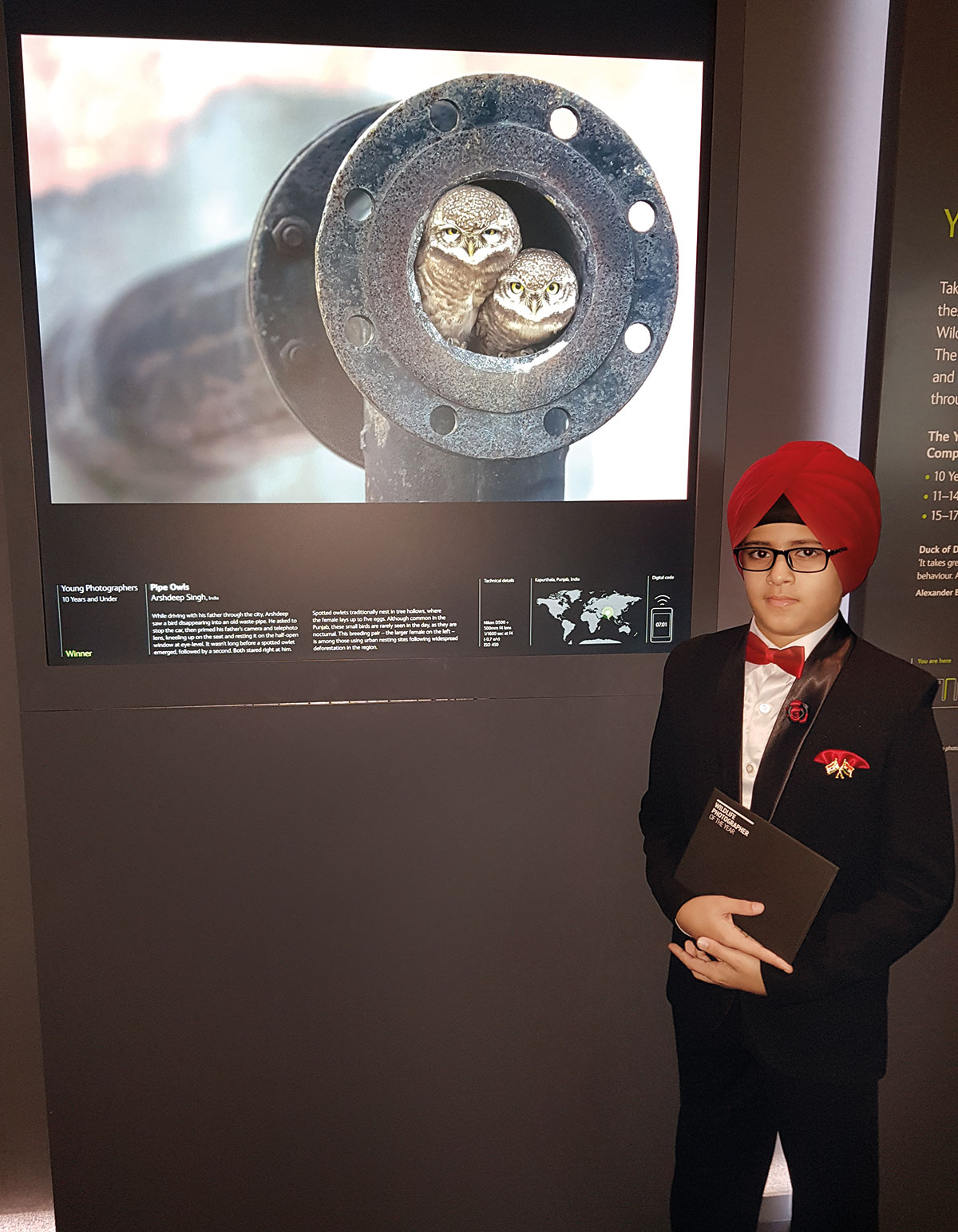 Arshdeep, next to his winning photograph, titled Pipe Owls, at the Wildlife Photography award ceremony
His role models and experiences have taught him far more than just the technical aspects of photo-capturing and image composition. "First, wildlife photographers need to have patience. Second, they should know everything about their subject. Third, and most important, is knowing the right moment to click. Photography has helped me become a little more patient with wildlife and in real life as well," he explains.
Having recently visited Madagascar, Arshdeep now awaits permission to go to Antarctica, where he wants to photograph penguins, blue whales, seals and dolphins.
"If you love taking pictures, just get out there and click away. I would request parents to support kids in their passions. You never know your child might be the next wildlife photographer of the year!" he quips.
By Ishani Nandi
The Girl who Fights for the Planet
The devastating floods of 2013 in Kedarnath, Uttarakhand, had a deep impact on Ridhima Pandey. She was only five years old then, but she already knew that the climate crisis was responsible for it. "If such disasters continue, what if, one day, I have to face such a situation, I asked myself," says Ridhima, now 11. So in 2017, she filed a petition with the National Green Tribunal, holding the Indian government responsible for not taking adequate action to tackle climate change.
A resident of Haridwar, Ridhima is one of 16 pre-teen petitioners from around the world protesting government inaction to fight the current climate crisis. She even spoke at the United Nations, calling for strong action to save the planet while criticizing governments for not doing enough.
Ridhima (left) at a climate-crisis demonstration in New York City
Ridhima developed a love for nature from her parents, who work in the field of wildlife protection. "I am able to understand the importance of our environment because of them," she says. Dubbed the 'Greta Thunberg of India', after the world-famous teenage environmentalist from Sweden, she feels that the comparison is "good" but creates a sense of "pressure".
Ridhima, who wants to become an environmentalist, feels Indians, in general, are unaware of the importance of environmental protection. "I am doing my best to save our environment and wish that Indians everywhere support me in my mission. Just like our parents and grandparents, we also have the right to breathe clean air and drink clean water and, for this, we must raise our voices, because we are the ones who are going to suffer in the future," she says determinedly.
By V. Kumara Swamy
The Boy who Saved a Life
On 14 August 2017, Biswajit Puhan heard loud shouts for help from a nearby canal while he was playing outside his house. Alarmed, the class-eight student from Odisha's Jagatsinghpur district rushed towards the commotion and found that a five-year-old girl had slipped and fallen into a canal while playing. Without a thought, Bis-wajit jumped into the seven-foot-deep trench and pulled her to safety. He then performed chest compressions to expel water from her stomach, and then carried her on his back to her aunt's house in Icchapur village. "I have been swimming since childhood. So I didn't think that I was putting my life on the line. It seemed like the normal thing to do," the young braveheart says simply.
Former President of India, Pranab Mukherjee, congratulating Biswajit on the ICCW award
Biswajit's selfless act earned him the Biju Patnaik Bravery Award, 2017 (the state's highest award for bravery) and the ICCW National Award for Bravery in 2018. "He managed a similar rescue by himself before," his businessman father states proudly. "He has always been an active, energetic lad and quick-to-act." Despite all the recognition and praise from friends and well-wishers, 13-year-old Biswajit remains humble—"What I did wasn't special. Anyone can pull it off—as long as they have the heart and himmat (courage) to do so."
By Saptak Choudhury