'Mera Naam Joker Was When I Began To Enjoy The Film-Making Process': Rishi Kapoor
In his autobiography, the late Rishi Kapoor talks about how he was introduced to the world of films
Indian cinema is over a hundred years old now and the Kapoors have been an influential part of it for almost nine decades, spanning four generations, beginning in 1928 when my grandfather joined the Grant Anderson Theatre Company. He was, in fact, the last of the male Kapoors to graduate from college. He had started a course in law too, but the draw of theatre was too strong. He abandoned that degree for an acting career.
My grandfather was only fifteen or sixteen years old when he chose to become a stage actor. And his foray into the film industry was heralded by no less a figure than Rabindranath Tagore himself.
In his early days in theatre in Calcutta, my grandfather had played Ram to Durga Khote's Seeta, in the stage production of Seeta. Tagore had seen it and was tremendously impressed by his performance. So when his friend, B.N. Sircar, producer and founder of New Theatres, decided to turn Seeta into a motion picture, Tagore suggested that he cast Prithviraj and Durga in it. Seeta, the film, was a blockbuster. Thus began the Kapoor khandaan's tryst with the Hindi film industry.
While his stature grew by leaps and bounds, my grandfather remained a simple man who worshipped his craft above all else. One of his weaknesses was that he was painfully shy, and any discussion regarding his fee remained a challenge for him until the very end. If a producer paid him for his work, he accepted it gracefully. If he didn't get paid, he remained silent with equal grace. The nature of his remuneration never reflected in the work, which he would continue to execute with utmost sincerity.
Dadaji lived his life by an uncompromising set of principles. Those were the days when the Hindi film industry was flush with cash, unaccounted income that was hidden to evade tax. My grandfather was perhaps the only industry man who emphatically rejected black money; he never took cash payments and insisted on declaring all his income to the income-tax authorities. It was a unique act of probity in the 1950s and '60s. Despite being father to three superstar sons—Raj Kapoor, Shammi Kapoor and Shashi Kapoor—who earned handsomely, he was fastidious about living within his means and insisted on footing all his bills himself.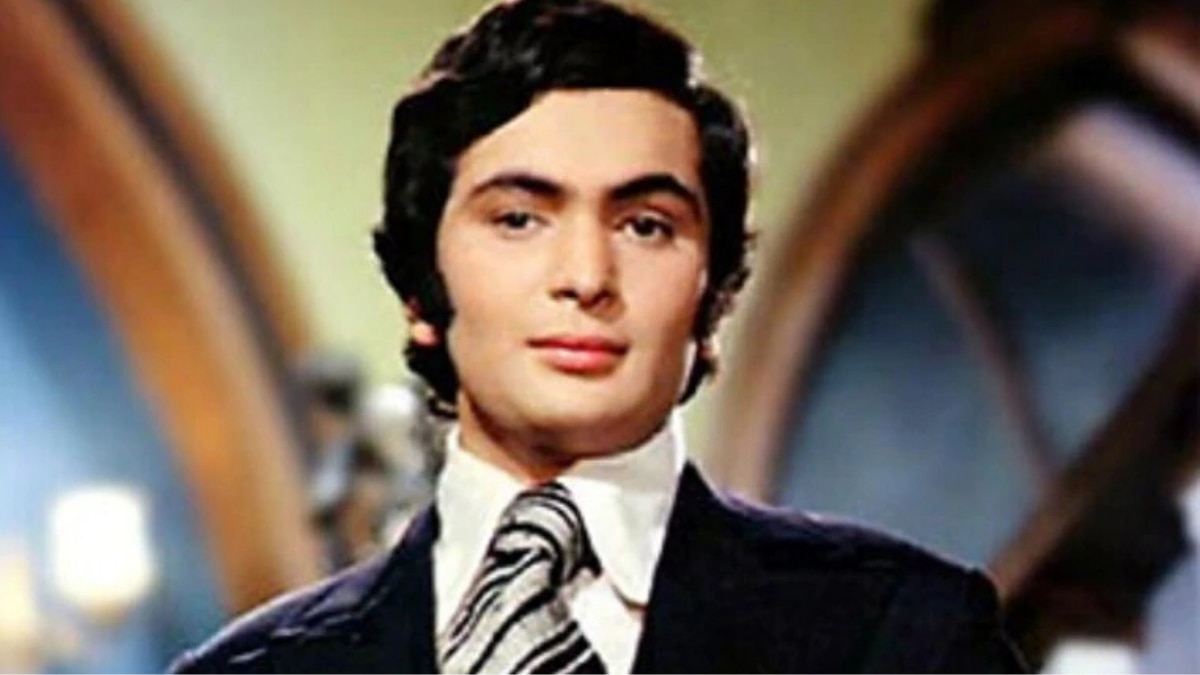 Rishi Kapoor in Bobby (Screenshot courtesy YouTube)
Strangely, despite Prithviraj Kapoor's stature in the film industry, my father didn't grow up dreaming of an acting career for himself … After he failed his final exams at school, Papa started work as an assistant to film-maker Kedar Sharma. It wasn't a long stint though, because he ended up stepping in front of the camera—and a star was born. His first role, at the age of twenty-three, was as lead actor in Sharma's own Neel Kamal (1946). After that there was no looking back. Just one year later, he launched his own film production company, RK Films, becoming the youngest studio owner ever in India. He made his first film, Aag, the same year. These achievements were early evidence that he would go on to be regarded as one of the most influential film-makers in the history of Indian cinema.
Despite the family legacy, and very much like my father in his early years, I didn't grow up yearning to join the 'family business'. Forty-six years and about 150 films later, the truth is that I wanted to be a great many things but never an actor. However, I had all the Kapoor family traits. Unlike Dadaji, neither my father nor my uncles or brothers were studious enough to earn a college degree. I followed in their wake. I was no good at sports or other extracurricular activities either. Many actors today talk of having excelled in either academics or sports but, apart from a little bit of elocution, I didn't do anything remotely spectacular in school.
It is ironic then that my first role as the male lead, and my character in many subsequent films, was that of a college student. In real life, I have never set foot on a university campus. I haven't even hung out in a college canteen. I had no time to do the things other teenagers did – at the age of sixteen, I was already working in Mera Naam Joker (1970).
Also ironic is the fact that, for all my disinterest in an acting career, I was the youngest of Raj Kapoor's children to face the camera for the first time. I was two years old, so I have no recollection of that acting 'debut', but it is captured on film and I have heard countless tales of the day when my father cast me in a passing shot in his film Shree 420 (1955) with my two older siblings, Dabboo and Ritu. These are primarily scathing accounts of star-sized tantrums, grumpiness and even bribery. I guess certain traits show up early.
The song being filmed was 'Pyaar hua iqraar hua'. As Nargisji, the leading lady of the film, mouthed "Main na rahungi, tum na rahoge, phir bhi rahengi nishaaniyan", the three of us had to walk through heavy rain. But the water kept getting in my eyes and hurt me, so I would cry and refuse to shoot. Finally, Nargis-ji figured out how to handle my tantrums. Every time I had to do a retake, she dangled a bar of Cadbury milk chocolate before me, promising to give it to me if I did exactly what my father wanted me to. In the end, that was all it took for me to cooperate.
I was sixteen when he cast me as the young Raju, the film's protagonist, in his semi-autobiographical film, Mera Naam Joker, a celluloid narrative in three parts. By now I was old enough to know what I was doing, and it is crystal clear in my mind that Joker was when I began to enjoy the film-making process.
Book cover courtesy HarperCollins Publishers India
For something that would prove to be a pivotal moment in my life, even fetching me a National Award, it began rather undramatically. My father casually handed me the script across the dining table one evening. The whole family was having dinner together when he asked my mother for permission to let me play the young joker. My mother thought about it for a while and agreed, with the caveat that it shouldn't interfere with my studies or my attendance in school. Papa assured her that he would shoot my sequences only over weekends, so there would be no question of bunking school. I pictured us taking the Deccan Queen to Pune on Friday evening, filming for two days, and returning by Sunday evening to resume school on Monday.
As my head swung back and forth between my parents, listening to them discussing the matter so casually, I couldn't believe what I was hearing. I could feel the excitement steadily growing, until I could hold it back no longer. I rushed to my room, pulled out a pad from my drawer and furiously started practising my signature, for future autograph hunters!
Excerpted, with permission from, Khullam Khulla: Rishi Kapoor Uncensored with Meena Iyer, published by HarperCollins Publishers India