Down Memory Lane With Chefs And Home Chefs, Who Celebrate Eid
We bring you festive memories from those who know how to throw an Eid Dawat
This Eid is different from any other year—low-key and under lockdown. To relive the joy of festive foods, I decided to go down memory lane with a few of my favourite chefs, from across the country, who celebrate Eid to discover the delicious dishes they remember fondly.
Aaloo Ka Saalan; Prof Ali Khan Mahmudabad
A descendant of the Rajas of Mahmudabad, he teaches political science and history at Ashoka University and tries to preserve the tradition of his family's 400-year-old kitchen in Mahmudabad
Meat, potatoes in an onion-based gravy—these ingredients exist in the cuisines of most cultures, in various permutations and combinations: Buseca in Argentina, the Lancashire Hotpot in the UK, Chakapuli in Georgia or Nikujaga in Japan. However, in Awadh, they are given a refined twist with good cuts of mutton, cooked with onions, garlic, ginger and various dry-roasted masalas. Then there are two ways to finish the dish. Make it into a qaliya by adding haldi or make it into a saalan with nutmeg and mace to add complexity and richness. Blanche or fry potatoes, add them to the pot and then relish with roti or rice.
Haleem; Home Chef Shahnoor Jehan
Founder of KHASSA by Shahnoor Jehan, Hyderabad
It is interesting that while growing up, Haleem was never my favourite until I got married. When expecting my first child, I developed a special craving for Haleem, especially the one cooked by my mother-in-law the late Begum Shaheda Samad. Her uncompromising attention to detail, and the quality and authenticity of ingredients made it absolutely the very best. She ensured there was enough Haleem kept away for me at that time. Her true Hyderabadi roots and traditional cooking techniques helped her to infuse genuine aroma into her Haleem. I am truly lucky to have bequeathed the secret recipe from my mother-in-law. Haleem also happens to be my signature dish in Khassa's Menu.
Biryani; Muhammad Ahsan Ali Qureshi
Co-Founder, Cross Border Kitchens, Delhi
At home I don't eat biryani often, but there's no other way to celebrate Eid than a nice Gosht Dum Biryani and the family recipe remains refined and hearty. "Dum" means breath—and truly, everyone holds their breath as the sealed handi of aromatic biryani is uncovered. The moment of unveiling brings a sense gratitude for the blessings we receive and sharing these precious moments with family and friends. The sheer elegance of it—immaculately done rice, sensually blended aromas and the explosion of flavours, is what makes me devour the Great Qureshi Biryani.
Badaam Pasanda; Aamir Siddiqui
Director, Karim's, at The Gallery on MG Sultanpur, New Delhi
The Badaam Pasanda truly captures the essence of Mughlai cuisine—the brilliance of juicy spiced mutton that falls off the bone, coupled with the richness and sweetness of almonds, indubitably royal in every way. The mutton is marinated overnight and slow cooked for 5 to 6 hours, which is why it is succulent and the almonds—cooked whole in this dish—are savoury. Although adding dry fruits in food is Afghan style, the slow cooking of Badaam Pasanda makes the almonds absorb all the spiciness of the mutton and make their flavour intense and delectable. Best eaten with a paratha, khameeri roti or even rice. I remember eating my first Badaam Pasanda at home, which my grandmother had taught my mother and it still remains my comfort food. You can find it on the Karim's menu.
Sheer Khurma; Sarfaraz Ahmed
Outlet Chef, Trèsind, Mumbai
A Persian dessert, where milk is cooked with dates and very fine vermicelli, full-fat milk and a lot of ghee and dry fruits. When I was young, I remember my mother adding a tempering of ghee with cloves and small cardamom to give it a very unique flavour and it was my absolute favourite. At Tresind, we do a modern interpretation of the classic sheer khurma, which is a vermicelli pudding that can be served hot or cold. I still remember the night-long preparations, excitement and joy in the family in the run up to Eid. Sharing and enjoying the sheer with neighbours, friends and family during the day will hold a special place in my heart always.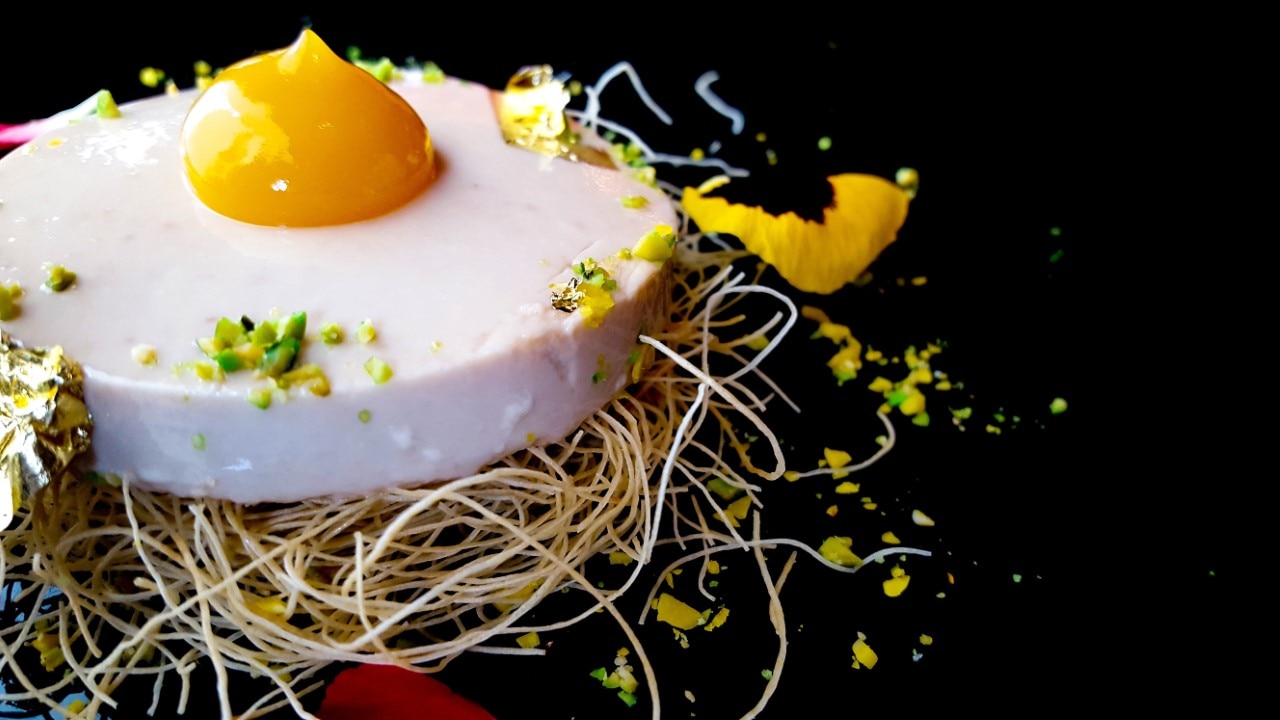 Sheer khurma. Pic courtesy: Trèsind, Mumbai
Dry Fruit Halwa; Chef Anas Qureshi
Corporate Chef, Molecule Air Bar
When we made this dish at home, in my childhood, I used to chop the dry fruits and my brother used to grate the coconut and the rest was mom's department. I will never forget that amazing smell—of the coconut and dry fruits being roasted in desi ghee with cardamom, and the moment milk was added to it, the whole house was filled with their lovely aromas. And then the wait was unbearable as we only got to taste the dish after the Eid prayers. Every family has their own way of preparing this delicious dish, but Eid festivities are incomplete without it.
Dry fruit halwa. Pic courtesy: Molecule Air Bar
Kimami Sewai; Shadab Ahmed
Chef de Cuisine of Jyran, Sofitel BKC, Mumbai
My mother Rukshana Bano used to prepare this every Eid—in fact it is prepared in every home in Lucknow. Kimami Sewai is basically milk with vermicelli, khoya, cloves, saffron and dry fruits and is a traditional Muslim festive breakfast and a dessert meant for celebrations. It's my favourite.