Prolong The Lifespan of Your Clothes
The material does matter. Get the process right with these expert tips.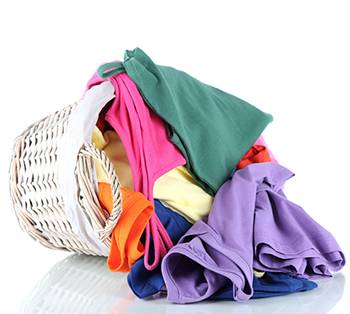 Separate according to type
Check the manufacturers instructions on water temperature, chemical use or ironing methods. Take meticulous care of baby clothes and opt for mild detergents, as those with alkali can cause allergic reactions. Always wash bed linens and towels separately, advises Kiran Kumar, executive housekeeper at Shangri-La Hotel, Bengaluru.
Know your fabric
"Hand-wash loose structured and low-strength fabric," says Purva Khurana, associate professor, National Institute of Fashion Technology (NIFT), Delhi. Follow this advice for silks, lingerie, sweaters, fine knitwear, linens (use cold water), cottons, viscose and polyester nets and chiffons. Machine washing may be hassle-free, but it can cause shrinkage and pilling. "Certain silks, such as dupion or Indian traditional silks like tussar, muga, or eri, and worsted (wool and wool blends) should only be dry-cleaned as contact with water can change its appearance," says Smita Ghosh Dastidar, assistant professor and knitwear expert at NIFT, Delhi. Do the same with outfits that contain a blend of fabrics, facings and linings that can shrink. Finally, she advises, rotate your favourite clothes, as they need to breathe and rest for the fibres to return to their original state.
The scoop on cleaning agents
Liquid detergents are a good alternative to powder, as they leave less residue. Optical bleach, fragrance and colouring (found in many detergents) can cause skin irritations. In such cases, an extra rinse cycle in the machine is useful. While going chemical-free is tough, it's best to stay away from detergents that contain sodium lauryl sulfate (SLS), sodium laureth sulfate (SLES), 1,4-dioxane, nonylphenol ethoxylates and phosphates (possible carcinogens), says Dastidar. Fabric conditioner also goes a long way in preserving colour, fibre and shape, making it easier to iron. Wish to go organic? Dastidar suggests using reetha (soapnut) instead of detergent for an allergy-free laundry, and vinegar in the final rinse, to soften fabric. Kumar recommends using "cold water, as warm water causes the fabric to fade". Be wary of brushes while handwashing as wet fibre is delicate and scrubbing can cause irreversible damage, says Dastidar. Soak grimy collars and cuffs for one to three hours in soapsuds and rub manually. You can also use a soft-bristle nylon brush, suggests Khurana.
Packing and stowing away
Remove clothes from hangers before storing them, as they could expand and ruin their natural shape, Kumar says. Stick to dust-mite free wardrobes or non-corrosive storage spaces. "Ensure that every piece of fabric is dried and packed in polyprolene-based material with moth-proofing chemicals like naphthalene balls," Khurana adds. For a natural alternative, Dastidar suggests cloth bags with lavender (a known insect repellent) or dried neem leaves stored in between sheets of paper, which can be placed between saris and shawls. Don't store expensive outfits for too long; air them to avoid damage. Separate woollens from jackets, as the former could attract moths more than the other, warns Khurana. If stored right, unpacking is a breeze. Just sun them for ensuring freedom from dampness.
Stain hacks
Sweat and wine: Soak in a 50/50 hydrogen peroxide and water solution for half an hour and wash immediately. - Ink and water soluble paint: Soak in medical spirit for half an hour and wash.- Tea and coffee: Remove garment immediately and wash the stain with boiling water (do not do this on wool or silk), then scrub with a mixture of borax and water.
Tips by Smita Ghosh Dastidar