Who Is UNIndian?
What does it take to be anti-national, legally?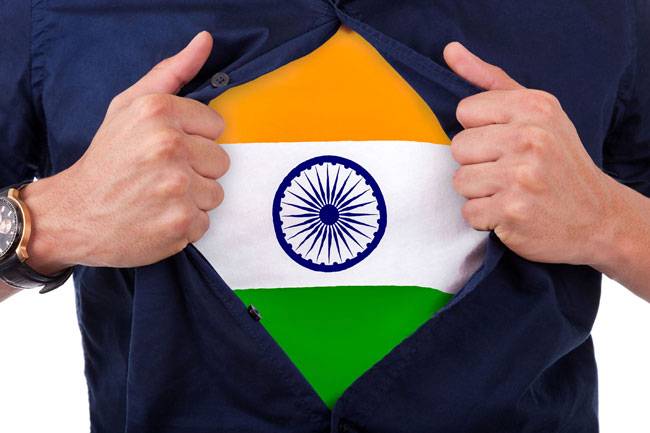 WHO OR WHAT IS ANTI-NATIONAL?
This is a question that has been at the centre of an urgent nation-wide debate. On 9 February, a group of students from Delhi's Jawaharlal Nehru University (JNU) had allegedly raised anti-India slogans to mark the anniversary of the controversial execution of Afzal Guru, an accused in the 2001 terrorist attack on Parliament. On 13 February, Kanhaiya Kumar, the JNU students' union president accused of sedition, was arrested. On 23 February, JNU students Umar Khalid and Anirban Bhattacharya, also accused of sedition, 'surrendered' before the Delhi Police at midnight. They denied they had done anything wrong and added a telling comment: "These people are telling us about patriotism."
But, what exactly is that statute-Section 124-A of the Indian Penal Code-that had its origins in a 146-year-old legislation, that defines who or what is un-Indian today? "Whoever, by words, either spoken or written, or by signs, or by visual representation, or otherwise, brings or attempts to bring into hatred or contempt, or excites or attempts to excite disaffection towards the Government established by law in India, shall be punished..." Considered an "offence against the State", sedition can even condemn one to a lifetime behind bars.
A COLONIAL HANGOVER
"I feel that the time has come when we may advantageously concert measures and prepare a policy to exclude effectually seditious agitation." It was August 1909, and Lord Minto, Viceroy of India, was cooling off at his summer palace in Shimla and mulling over "measures to be taken for the suppression of sedition." The archived Records of the Government of India, Foreign Department Serial No. 178, says he sent out letters to 24 princely states seeking "mutual cooperation against a common danger": "disaffected people" who dared criticize the British government in India.
Over a 100 years later, the word 'sedition' is still doing the rounds in an elected democracy, where citizens provide legitimacy to public policies and laws. A remnant of the age-old English common law, it was introduced by the British in 1870. "As colonial rulers, they felt the need to 'criminalize' the disaffection of the colonized towards a government by force," says legal scholar N.R. Madhava Menon. "But its continuance in free India is incongruous." In a democracy, everyone has the right to disapprove of a government and seek its removal in the next election, without resorting to violence, he explains. The term sedition bumps up against the right to free expression and speech enshrined in the preamble and Article 19(1)(a) of the Indian Constitution.
CHILLING EFFECT
Most modern constitutional democracies around the world have either abolished or let the provisions of sedition fall into disuse. The law of sedition was abolished in the UK in 2009 for not reflecting the values of constitutional democracies. Former colony New Zealand got rid of the law in 2007, for offending democratic values and becoming a tool to silence political opposition. In the US, the courts consistently criticize the "chilling effect" of the sedition law on free speech and afford wide protection to political speech. Failure to prevent sedition is also punishable there. In Australia, the law remains in the criminal codes.
In India, however, the vagueness of language, the voluminous legislative history and conflicts in judicial interpretation have allowed successive governments to use it with impunity. Legal search engine Indian Kanoon throws up hundreds of references for "sedition." If in the pre-Independence cases, the overwhelming rationale was "undermining the British government in India", as in the three sedition trials of freedom-fighter Bal Gangadhar Tilak in 1897, 1908 and 1916, in independent India the judiciary has slapped sedition cases for inciting people to violence. Over the years, grounds for the sedition charge have widened: "for exceeding the limits of legitimate criticism;" "habitually publishing seditious matter;" "mocking the Constitution;" "offences against the State;" or spreading "hatred," "contempt," and "disaffection".
Yet the judiciary has routinely granted acquittals in sedition cases too. In 1942 (Niharendu Dutt Majumdar vs King Emperor), the Calcutta High Court set aside a case where the appellant was arrested for his speech that the government had not taken any steps to stop communal disturbances during the Dhaka riots: "…to describe it as an act of sedition is to do it too great [an] honour." In 1962, the Supreme Court held (Kedar Nath Singh vs State of Bihar), "A citizen has a right to say or write whatever he likes about the Government, or its measures, by way of criticism or comment, so long as he does not incite people to violence..." In 1995, (Balwant Singh and Anr vs State of Punjab), the Supreme Court refused to punish two men for raising slogans of 'Khalistan Zindabad' in a crowded area outside a cinema hall the day Indira Gandhi was assassinated: "Raising of some lonesome slogans, a couple of times by two individuals, without anything more, did not constitute any threat to the Government of India…"
POLITICOS Vs SUPREMOS
Not surprisingly, sedition has turned out to be a great arena of judiciary-executive friction, especially in the new millennium. While the mandate of the courts has been to uphold freedom of speech and expression, successive governments have used sedition laws as a deadly weapon to stifle criticism and gag opponents. In 2003, Vishva Hindu Parishad leader Pravin Togadia was slapped with sedition by a Congress-run Rajasthan government for defying its ban on tridents, while in 2005 the Congress government in Punjab and Haryana filed an FIR against Simranjit Singh Mann, president of the Shiromani Akali Dal-Amritsar, for raising pro-Khalistan slogans in the Golden Temple complex on the 21st anniversary of Operation Blue Star. In 2006, Manoj Shinde, editor of Surat Saamna, a Gujarati newspaper, was charged with sedition for using "abusive words" in an editorial against then chief minister Narendra Modi.
A classic case is physician and rights activist, Dr Binayak Sen, who was convicted of sedition in 2010 on the allegation that he "couriered" Naxalite letters. Did it have anything to do with his vocal criticism of the Chhattisgarh government's vigilante outfit Salwa Judum? He got bail in April 2011, and the Supreme Court bench observed: "He may be a sympathizer, but this does not make him guilty of sedition."
Who will have the last word on the JNU row? The executive or the judiciary? To senior advocate K.T.S. Tulsi, "Youngsters raising slogans and engaging in intellectual radicalism cannot be called sedition." Where is the evidence to show they resorted to violence, posed a security threat to the state or had the intention of overthrowing the government, he asks. "I will be surprised if the charges stick."
Rebel REPORT
A history of some famous Indian sedition cases
1891
THE FIRST TRIAL
Jogendra Chandra Bose criticized the government in an editorial of Bangobasi newspaper. Prosecution dropped the charges after he tendered an apology.
1897, 1908, 1916
THREE TRIALS OF BAL GANGADHAR TILAK
Faced sedition charges thrice for "undermining the British government in India." The second time, he spent six years in jail.
1907
SEDITION OF LALA LAJPAT RAI
Was deported to Mandalay in Burma for "open sedition" without a trial. However, he was allowed to return after a few months when Lord Minto decided that there was insufficient evidence to hold him for subversion.
BANDE MATRAM
Aurobindo Ghose was arrested for "habitually publishing seditious matter" in Bande Matram newspaper, but was acquitted.
1922
TRIAL OF GANDHI
Charged for his writings in Young India. At the trial, he said, "I am here, therefore to invite and submit cheerfully to the highest penalty that can be inflicted upon me for what in law is deliberate crime, and what appears to me to be the highest duty of a citizen." Sentenced to six years in jail.
1934
KAMAL KRISHNA SIRCAR Vs THE EMPEROR
Charged for condemning Communist Party ban and supporting the Russian Bolsheviks. The Calcutta HC commented: "It is really absurd to say speeches of this kind amount to sedition."
1942
NIHARENDU DUTT MAJUMDAR Vs KING EMPEROR
For his speech that the Bengal government hadn't taken any steps to stop communal disturbances during the Dhaka riots. Was later acquitted.
1962
KEDAR NATH SINGH Vs STATE OF BIHAR
Charged for seditious speech. SC held: "A citizen has a right to say what he likes about the government, or its measures, by way of criticism, as long as he does not incite violence."
1982
ALAVI Vs STATE OF KERALA
Where the court held that sloganeering, criticizing Parliament or the judicial setup did not amount to 'sedition.'
2006
MANOJ SHINDE, EDITOR, SURAT SAAMNA
For using "abusive words" against chief minister Narendra Modi in an editorial and alleging administrative failure in tackling the Surat floods.
2005
SIMRANJIT SINGH MANN CASE
President of the Shiromani Akali Dal, Amritsar, was arrested for raising pro-Khalistan slogans at the Golden Temple on the 21st anniversary of Operation Blue Star. The court held that raising slogans at a public meeting "is not sedition."
2003
PRAVIN TOGADIA, VHP ACTIVIST
Slapped with sedition by Rajasthan government for defying the prohibitory orders and ban on distribution of tridents; also faced a charge under Section 121-A of IPC (waging war or attempting anti-national activity).
1995
BALWANT SINGH AND ANR Vs STATE OF PUNJAB
They had raised slogans of 'Khalistan Zindabad' outside a cinema hall the day Indira Gandhi was assassinated. But their conviction was set aside by the Supreme Court.
2010
DR BINAYAK SEN, RAIPUR, CHHATTISGARH
Was convicted for allegedly helping courier messages to Maoist leadership. Was sentenced to life imprisonment and granted bail later.
ARUNDHATI ROY, S.A.R. Geelani, Varavara Rao, Shuddabrata Sengupta et al booked for their "anti-India" speech titled "Azadi: The Only Way."
2012
ASEEM TRIVEDI
Kanpur cartoonist arrested for mocking Constitution. Did not apply for bail until charge was dropped. Bombay HC slammed police for his arrest on "frivolous grounds."
2015
HARDIK PATEL
The 22-year-old quota agitation leader from Gujarat was booked by the police under charges of allegedly instigating a youth to kill policemen instead of committing suicide.
2016
ARUN JAITLEY
Was charged for an article he wrote reacting to the Supreme Court verdict on the National Judicial Appointments Commission. The Allahabad High Court quashed the charges.